June 25, 2023




1:30 pm - 3:30 pm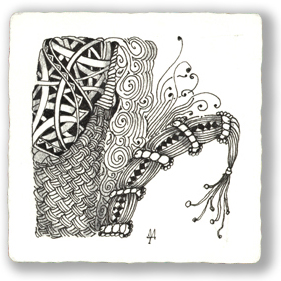 "The Zentangle® Method is an easy-to-learn, relaxing and fun way to create beautiful images by drawing structured patterns. It was created by Rick Roberts and Maria Thomas. "Zentangle" is a registered trademark of Zentangle, Inc. The tagline is 'Anything is possible, one stroke at a time'.  Participants will learn how to draw some of the original Zentangle basic designs in this first level class, one stroke at a time, as demonstrated by the instructor.  We will learn about the core concepts of the designs, and students will learn more about subsequent designs from the 1000's of designs now available.
Date:  Sunday, June 25
Time: 1:30-3:30
Cost:  $45 with a $12 material fee paid directly to the instructor.
Bio: Heather has been a Certified Zentangle Teacher (CZT) since 2014, having first become interested in incorporating meditative artwork into her clinical practice with adolescents impacted by trauma.  Seeing first-hand the effects of utilizing Zentangle with clients and students, she will speak to the qualities that positively impact our mental health; breathing, increased focus, mindfulness, nurturing and developing creative abilities, relieving stress, and more!
As a CZT, she has presented Zentangle workshops for New London Adult Education, The CT Air National Guard, The Old Saybrook public school system, Middlesex United Way, and many other groups of interested folks.
In a Zentangle 101 session, students will be introduced to the origin of Zentangle, the core concepts, and will create one or more 'tiles' with several of the original designs. For more examples, www.zentangle.com   Students will have ample materials in a kit they will be keeping.