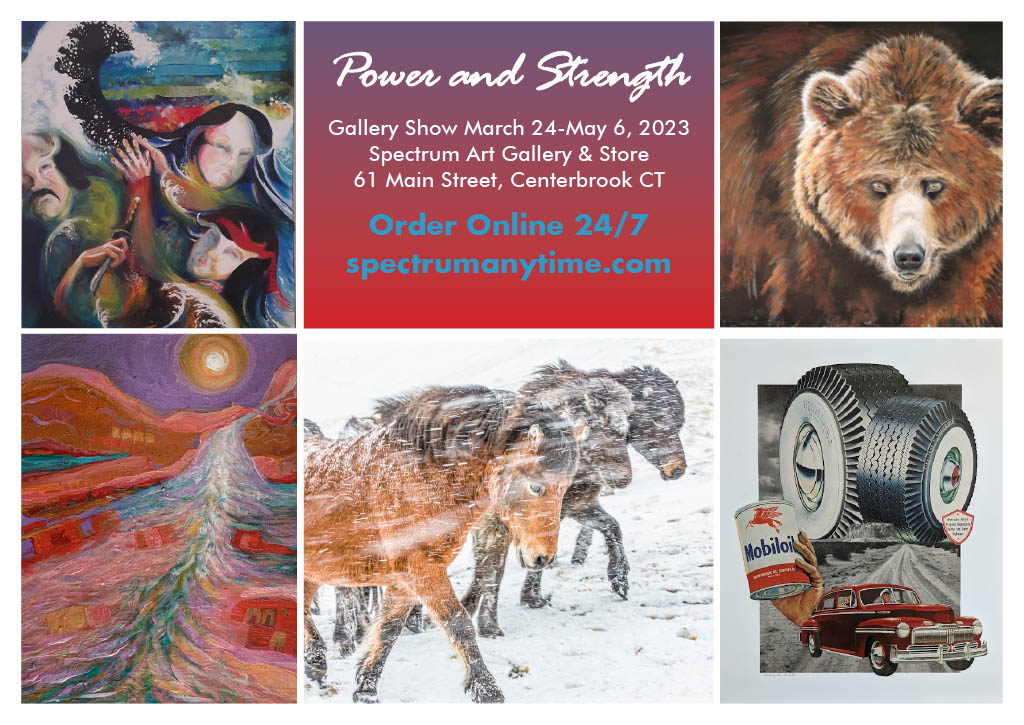 Power and Strength
Spectrum Art Gallery Exhibit Opens March 24
There are many ways artists explore the concepts of "power" and "strength". Spectrum Art Gallery of Centerbrook has curated an exhibition of innovative and commanding artwork to illustrate this. Discover exciting established and emerging artists who create abstract and representational painting, mixed media, photography, and more. The Gallery will launch the show with an Open Reception, Friday, March 24 (6:30-9pm) and an Open House Weekend, Saturday, March 25 (1-6pm) and Sunday, March 26 (1-5pm) at 61 Main Street, Centerbrook, Connecticut. Power and Strength runs through Sunday, May 6.

Artists presenting at Spectrum include new and returning favorites. Jeanette Wimmer who is known for her colorful watercolors and pastels of unique still life and landscapes. Katia Gretchukhina, a California-based artist, is deeply intrigued by the vibrant colors of acrylic that are perfect for her eccentric, imaginary worlds. T. Willie Raney, an award-winning artist and educator, seeks to create both physical and spiritual balance using influences from objects found in nature, especially those with texture, light, and rhythm. Robert Dietz, a pastel artist with a passion for sea and landscapes, presents a different part of nature – a powerful image of a bear entitled Silent Watcher.

Returning to Spectrum is Molly Waite Lund, an analog collage artist who repurposes vintage papers and experiments with color, shape, relationships, and negative space. Also returning is assemblage artist Ron Bence, whose passion is assembling separate and distinctive objects into larger visually stimulating works. He finds balance within the materials he works with blending metal, wood, and found objects rescued during his travels.

Several artists at Spectrum, inspired by the theme of Power and Strength, have created companion pieces for work currently at the Gallery. These include Pat Damiani who is creating new work in addition to her painting Here Comes the Judge, an oil on canvas that captures a scene of struggle on a baseball field. Award-winning artist Ned Farrell is creating a new work to accompany his piece, Trike in the Mist, an ethereal woodsy scene with a majestic triceratops as the subject. Daniel Dahlstrom also has two new works in the show that will be exhibited along with his oil painting, Sailing on the River. Artist Nancy Gladwell returns with her piece Before the Fall, depicting a woodsman in action, as does Patti Maher, whose Running Free and Running Wild horses in watercolor, will be on view.

Other Spectrum favorites presenting include mixed-media artists Regina Thomas and Kim Kordonowy. Painter, jewelry designer and fabric artist Gloria Nilsson shows her work in the artisan store for this show. There are multiple representational and abstract painters returning and showing pieces in acrylic, oil, and watercolor including Maria Johnson, Marjorie Sopkin, Tammy Blais, Linda Reid, Linda McCarthy, Tatiana Ferraro, Jennifer Gibson, John Murray, and Rosemary Gates who works in a variety of mediums including oil, charcoal, and pencil. Photography is well-represented by Dianne Roberts, Robert Thomas, Paul Essenfeld, Scott Camphausen, and more.

Fine artisans with new work in Spectrum's Store include glass artisans Maryann Flick, Sharon Lewis and Jean Gresham, polymer clay artists Beth Terhaar and Kristie Foss, fiber artists Elaine Sych and Holly Walker and potters Jana Rutty and Lynne Scullion have refreshed their pieces the gallery for this Spring show. Returning jewelry designers with new seasonal pieces are Valerie Owens, Lisa Fatone, Linda Saucier and Michelle Gore. As a special treat Joanna Biskupski has created new statement pieces for the show. Jillian Nielsen, who specializes in leather and fiber jewelry pieces, has created new designs as well as Sandra Huber whose passion is lamp work. Not to be missed are the new gourds of Marie Angersola, the home décor decorative shells of Barbara Hernandez-Froelich, the utensils of sustainable wood carver Glenn Paskiewicz, as well as new Spring clothing pieces by Marsha Borden and Anna Mastropolo who uses her embroidery skills to enhance upcycled clothing pieces into contemporary looks.

Spectrum Art Gallery and Artisans Store is open Wednesday through Saturday (12-6pm) and Sunday (12-5pm). For more information call (860) 767-0742 and visit Spectrumartgallery.org. Shop online at SpectrumAnytime.com with shipping available throughout the US – a perfect choice for convenient gift giving all year long, with gift cards also available in the Store and online. To join the community conversation, follow on social media at facebook.com/spectrumartgallery, instagram.com/spectrumartgallery, and twitter.com/spectrum_ct