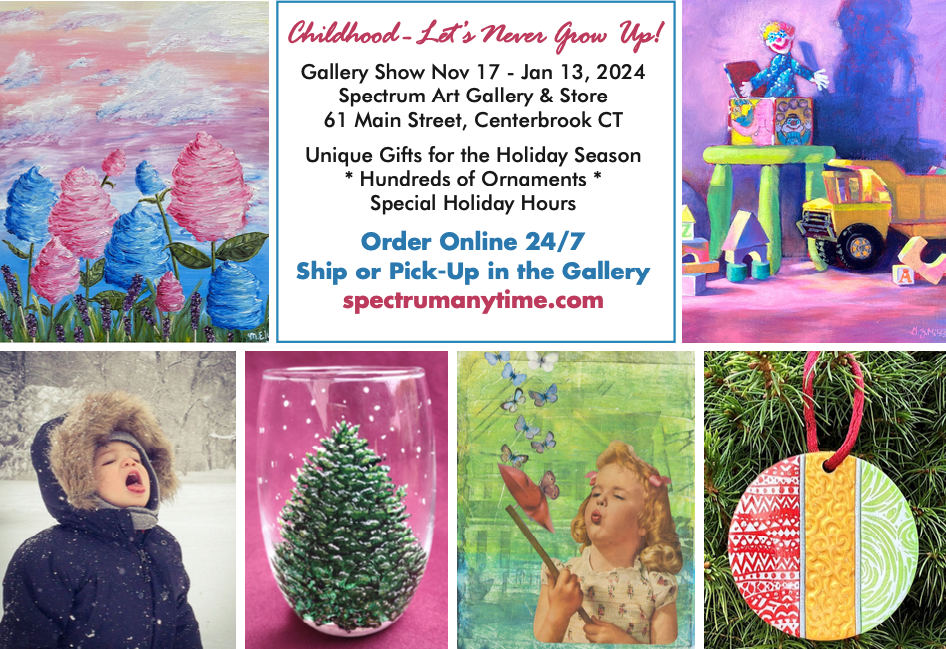 Childhood – Let's Never Grow Up!
Spectrum Art Gallery's Holiday Show Opens November 17
Spectrum Art Gallery and Artisans Store of Centerbrook presents its 2023 Holiday Show, Childhood – Let's Never Grow Up! with an open reception Friday, November 17 (6:30-9pm) and an Open House Weekend, Saturday, November 18 (1-6pm) and Sunday, November 19 (1-5pm). As we are all children during the holidays, 'tis the season to celebrate childhood and its meaning. Discover new artwork by established and emerging artists from throughout the region at 61 Main Street, Centerbrook, Connecticut. The show runs through January 13.
Childhood! is the place for art lovers to add to their collections and discover fine crafts for oneself or as thoughtful gifts for friends and family. There are dozens of one-of-a-kind stocking gifts, as well as handmade ornaments created by local fine artisans available for purchase from the Gallery's six-foot annual Holiday Tree. Many returning favorites as well as those presenting for the first time include Gloria Nilsson, a teaching artist who works in a variety of mediums and presents vibrant childhood scenes in acrylic. Kelly Taylor works with acrylic, gels, collage, photographs, and photo transfers to create abstract mixed media. And artist Kim Kordonowy exhibits scenes in mixed media, acrylic, fabric, and oil on canvas from her years spent in Tokyo, Japan with her family.
Rosemary Gates who works in oil, charcoal, and pencil offers Inner Child Cuisine, an oil on linen still life. Teri Glassman returns with a holiday cityscape – in oil.  Megan Emily Ely offers new works in oil. She is a surrealist and fantasy artist inspired by fairytales, mysticism, nature, dreams, and magic. Molly Waite Lund, an analog collage artist, experiments with color, shape, relationships, and negative space.  She repurposes vintage papers as a reminder of the history that has shaped her life, while reflecting the show's childhood theme. Glynnis Sorrentino, Jeannette Delmore, Ned Farrell, Pat Damiani, Natalya Prisyagina and New York artist, Mitchell Rodbell inspired by the holiday show theme, have composed pieces featuring nostalgic childhood imagery. 
Other important painters and mixed media artists returning include artist Diane Rubacha who offers several sweet relief woodblock prints of childhood moments. Lisa Fatone, a multi-talented artist and graphic designer, creates original greeting cards, and jewelry designs; and Lynn Webber repurposes glass to design holiday garden art in the form of totems and lanterns. Also participating are painters and mixed media artists Katia Grechukhina, Catherine Satsuk, Daniel Dahlstrom, Patricia Corbett, Terry Froehlich and Regina Thomas returns showing for the first time several of her mixed media assemblages.
Returning photographers to Spectrum include Colleen Reilly, an award winner who shoots landscapes, wildlife, architecture, and for this show lively photographs of children, and Spectrum favorites Dianne Roberts, Jamie Wilson, Paul Essenfeld, Robert Thomas, and Paul Ramsey all exhibiting new work inspired by the holiday theme Childhood!.
Spectrum's annual Holiday Show includes artisans working in ceramic, pottery, glass, fabric, wood, polymer clay, paper and more including Carley Tillinghast, an artisan who works in a variety of mediums including fiber, tatting (hand-created lace) creates her popular Christmas Spiders from beads and wire. New artisan, Susan Leggitt, brings to Spectrum a variety of embellished snowmen and shell ornaments to elegantly celebrate the season. And to embellish your table or side boards Mitzie Kalolo creates festive table runners. Carol Dunn brings sets of her beautifully intricate glass holiday tree sculptures, and knitter Christine Rook returns with mittens, hats, cowls for adults and beautiful sweaters, hats and more for children and babies. New to Spectrum is artist Lauren P. Murphy who experiments primarily with painting, sculpting, and mixed media. She is a Counselor with a PhD in Expressive Therapies whose research in creativity and wellness identified pathways to expanding creative thinking. For the exhibit, she presents a St. Nicholas sculpture created with polymer clay and fabric.
Maryann Flick, a fine art photographer and stain glass artist shows several holiday-inspired glass ornaments including a jolly candy cane, gnomes as well as a dove carrying a peace offering. New to Spectrum is stained glass artisan, Bonnie Bernice, who shows a modern, colorful window panel and a variety of ornaments. Fused glass artists include Sharon Lewis' popular ornaments, Thomas O'Connell with original and vivid glass work such as bowls, holiday trees, and candle holders, Joan Weir with an emphasis on contemporary home decor and Jean Gresham presenting a variety of holiday home décor items. Robert Aiudi, weaver and textile artist, presents a large work for his debut at Spectrum, and fabric artists Valerie Owens and Elaine Sych also return with new pieces for the holidays.
Spectrum welcomes back potter favorites Nancy Scilipote with new functional work and mini-collectible vases and bowls, Eric Ambler and Hannah Leckman show gnomes, holiday bells and bowls..
Others presenting include Samantha Barlow-Beamer who is a jewelry designer and crafter of her popular fairy houses. Anna Mastropolo, a textile artist and jewelry designer offers new clothing and accessories to attend holiday events "in style". And Deborah Churchill crafts exquisite mandala artworks using a technique called "dotism," painting with small, distinct dots of color in patterns to form elaborate images on gypsum rocks for that pop of color on a side table. Janet McCready, an artisan working in natural materials offers handcrafted bowls made from beach stones, as well as intricate holiday ornaments from shells and beads. Photographer Carol Lowbeer offers her images of winter scenes on specially designed cups. Maureen Maalouf creates hand-painted holiday stemware, and Kristen Owens offers new Moms her whimsical burp clothes, bibs, and hand/foot rattles. Back to Spectrum are artisan favorites Joanne Brown with decorative holiday frames and Barbara Hernandez-Froehlich with winter scenes on standing slate panels and fun ornaments.
Fine jewelry designers including those new to Spectrum include designers working with precious and semi-precious stones, fabric, sterling silver, and fused glass including Jean Gresham, Linda Saucier, polymer clay jewelers Beth Terhaar and Kristie Foss, lamp work designer Sandra Huber, fabric jeweler Jillian Nielsen and jewelry pieces in beads and semi-precious stones by Joan Wenzel and Sue Braden Hull, plus eye-popping beaded statement pieces by Michele Kleiman and Pauline Clifford.
Spectrum Art Gallery and Artisans Store is open Wednesday through Saturday (12-6pm) and Sunday (12-5pm). Between December 9th and 23rd, the Gallery is open Monday-Saturday 12-6pm; Sunday 12-5pm; on December 24th, open 11am-2pm. Shop Spectrum Anytime at spectrumanytime.com with shipping available throughout the US – a perfect choice for convenient holiday gift giving; gift cards are also available in the Store and online. For more information call (860) 767-0742 and visit spectrumartgallery.org. Follow on social media at facebook.com/spectrumartgallery, instagram.com/spectrumartgallery, and twitter.com/spectrum_ct
###