March 29, 2023 - April 26, 2023




12:30 pm - 2:30 pm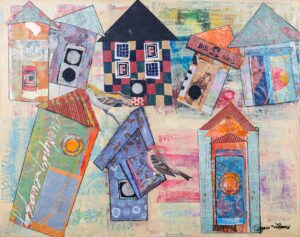 In this class learn to layout groupings of simple dwellings by creating gel prints and using fun collage cutouts from images found in various periodicals, magazines and postcards. Become proficient with cutting blades and mats to cut out the basic architectural shapes (squares, rectangles, circles and triangles). These naive dwellings will then be layered with the cut shapes using adhesive and weights to hold the houses together. You'll create backgrounds using gel print patterns, stenciling, acrylic paint and even old newspapers to enhance the theme of your collage. In this class building a house will be fun and stress free! No experience necessary. Material list available upon registration.
Dates: Wednesdays, March 29; April 5; 12; 19; 26.
Time: 12:30-2:30
Cost: $160 per person plus a $25 material fee paid to the instructor