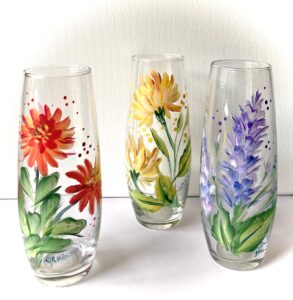 Capture summer's essence in this easy-to-do painting on glass workshop. First, create a simple sketch of your floral design on paper and do a few practice strokes. Learn how to apply brush strokes to the glass, color mixing and layering techniques as you build a lovely floral scene on a glass vase. Keep for yourself, give to your favorite gardener or someone you love. Two vases plus supplies included.
Date:  Sunday, October 15
Time: 1-4pm
Cost: $50 with a $12 material fee paid directly to instructor.
About the instructor:
Gloria Nilsson is a professional teaching artist. She received her degree in Graphic Design from Pratt Institute. After working as a graphic designer for several years, Gloria turned her concentration to the fine arts, exploring pastels, oils, watercolor, and acrylics.
Nilsson is currently painting on silk, where she applies a variety of techniques to fine art paintings and scarves. In 2015, Gloria's silk painted illustration, Chapter 11: Spellcheck, created for the serialized storybook for young readers, The Mystery of the Great Connecticut Caper, was published by Connecticut Humanities/Connecticut Center for the Book.
Gloria also developed her own unique artisan crafted jewelry line. Her designs are created with woven, sculpted, and wrapped wire techniques, semi-precious stones, Swarovski crystals, polymer clay, precious metals, art glass and pearls. Nilsson teaches the Fashion Illustration program for Summer Fashion Weeks, and she also provides a variety of fine art and mixed media lessons for the Nature Camp program, both at the Arts Center Killingworth. Gloria's recent work is featured at Spectrum Gallery, Centerbrook, CT, and other indoor/outdoor venues.
October 15, 2023




1:00 pm - 4:00 pm