Water, Water Everywhere Gallery Show
Spectrum Gallery's Largest Exhibit to Date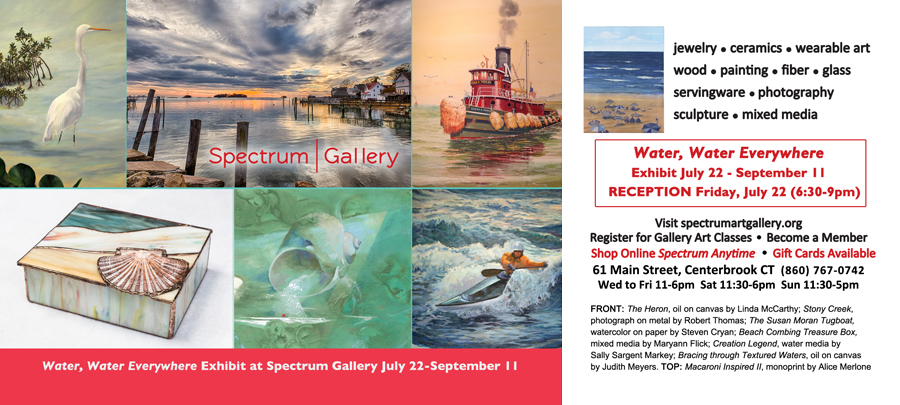 Spectrum Gallery and Fine Artisans Store in Centerbrook presents its most extensive art exhibition Water, Water Everywhere, July 22 through September 11. The summer show features the works of regional and national artists who incorporate images and symbolism of water in their paintings, photographs, and mixed media collages. An opening reception will be held on Friday, July 22 (6:30-9pm) at Spectrum Gallery, 61 Main Street, Centerbrook, Connecticut.
Participating artists new to the Gallery are monoprint artist and former President of the Monotype Guild of New England Alice Merlone, land and seascape painter Bill Revill, and award-winning hand-painted fabric artist Diane Cadrain. Also showing are award-winning oil painter Judith Meyers, and Linda McCarthy who combines acrylic, oil and other mediums in many of her abstract works. Painter Oliver Pichardo-Espaillat will exhibit several new abstract seascapes, Pavani Arigila gives views in her oil and watercolor pieces of two of the most famous water landmarks, The Taj Mahal and Niagara Falls, painter Lindsey Pfeiffer Lane, a marine artist who paints on actual canvas and award-winning painter and book illustrator Sally Sargent Markey who will present her colorful and dreamy work. Also new to the gallery are the husband and wife team, Steven and Lauren Cryan with Lauren showing for the first time several of her new mandala paintings while Steven, gives views of bygone eras through his luminous watercolor paintings of famous lighthouses and tugboats. Photographers new to Spectrum are David Bauer and Dick Sonderegger, and installation artist Marsha Borden.
"Over 70% of our globe is covered by water which is a necessity to life as we know it, and here on The Shoreline that could not be more self-evident," notes Barbara Nair, Gallery Director of Spectrum Gallery. "This show, the largest since our launch in 2014 exhibits some of the ways we engage with water from its scenic beauty to its diverse recreational opportunities. It honors the beautiful environment we are so lucky to live in and must maintain."Artists returning to Spectrum Gallery with new work include painters Jay Babina, Bill Colrus, Margaret von Kleist Emond, Dan Nichols, Nan Runde, Colleen Casner, Jan Prentice and painter and photographer Ursula Coccomo. Photographers returning include Elin Dolle, George Fellner, Sally Perreten, Dianne Roberts, and Robert Thomas. With the Gallery once again are also mixed-media artists Eva Dykas and Cécile Emond, encaustic artist Victoria Sivigny as well as fabric and quilt artist Helene Kusnitz.