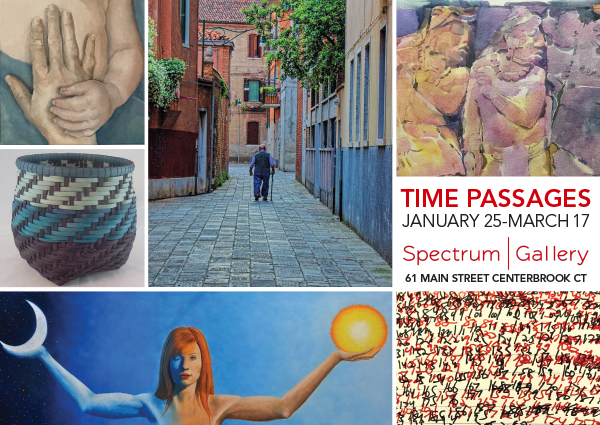 Time Passages
Spectrum Gallery's First Exhibition of 2019 Opens January 25
Spectrum Gallery and Artisans Store of Centerbrook presents its first show of 2019, Time Passages, on Friday, January 25. With original artwork and fine crafts that illustrate the passage of time, the show explores the many ways (and mediums) of expressing this eternal concept. Located at 61 Main St., Centerbrook, CT, the show includes an Open Reception on Friday, January 25 (6:30-9pm) including wine and refreshments.
"We visualize time passing in so many different ways which is what amazed me about putting together this show……..seasonal changes, sunrises or sunsets, aging or birthing, objects rusting and deteriorating, nature wilting or about to bloom and the list goes on. Each image carries its own story. The question for all of us to pose while viewing this show is how do we view time passing as an ending or a potential new beginning?" Barbara Nair, Director of Spectrum Gallery.
Artists presenting at Spectrum include abstract painter Aleta Gudelski who works with radiant swirls of color; painter Melissa Imossi, a contemporary realist artist who focuses on the flow of light in her images; Richard Malinsky, an abstract painter who is exhibiting several works from his Aquos series, influenced by the colorful marine life and vegetation found in the Florida coral reefs; Robert Dietz a pastel artist with a passion for landscapes and animals and Irish born and current North Carolina resident Paul Nixon presents at Spectrum for the first time. A woodcarver, sculptor and photographer, Nixon exhibits several digital archival prints and a sculpture crafted from gypsum cement. New to Spectrum is T. Willie Raney, a mixed media artist who combines printmaking, watercolor and collage with a focus on layers and illumination and Beth Pite, a pastel artist who paints with lose, gestural strokes of vivid color.
Returning with new work is Linda McCarthy an artist who creates mixed media abstracts and acrylic impressionistic pieces on canvas and aluminum, focusing on color and texture; Dan Nichols who works in oil and acrylic and captures scenes of nature as well as paints visions of antique cars; Denise Hartz, an abstract painter who explores memory, experience, and the transcendence of nature; Linda Reid who produces landscapes and for this show the human figure in watercolor with heightened attention to delicate lines; Pam Carlson who focuses on unusual subject matter in an impressionist style; and oil painter Ted Genard presents several pieces depicting his unique visions of time passing.
Margaret vonkleist Emond returns to Spectrum with new abstract, mixed media works; fine artist Mark Rich presents vibrantly-colored works in oil and wax pastels on canvas; Regina Thomas known for her adventurous use of mixed media in her realistic collages has several original pieces for the exhibit; and Pam Erickson, also returns to Spectrum with a delicate ink and pencil drawing on paper. Another mixed media artist, Aliza Tucker, presents a digital image transfer onto basswood; mixed media artist Heidi Lewis Coleman creates four collages of the seasons using papers and natural materials and Kelly Taylor, combines acrylic paints, gels, collage, and found materials to express her views on our environment while Rosemary Webber, an award-winning illustrator and artist who works in oil, acrylic, and pen, presents Land of the Fleshless, a watercolor on cold press watercolor paper inscribed with a poem on the passage of time.
Fiber artist Ellen Schiffman presents at Spectrum for the first time with a piece that exhibits the richness of fiber and fiber making traditions. Her work includes both elements from nature as well as common household items using both traditional and experimental techniques to transform materials.
Returning award-winning photographers presenting at Spectrum are Ann Hodgdon-Cyr who creates silver gelatin prints; Bill Vollers, a photographer and mixed media artist who builds assemblages from found objects; Dianne Roberts who captures images of the passage of time in animals and nature; and Elin Dolle, an award-winning photographer who returns to Spectrum with several powerful pieces illustrating the ravages of time. Robert Thomas, shows photographs from his Coastal Visions series, limited-edition digital prints on metal; and Sally Perreten also returns with a digital archival print of the barque, Picton Castle, named for an 11th Century Welsh castle.
Additional photographers include Howard Margules who shoots a wide range of subjects but favors portrait photography, particularly candid, un-posed subjects; and Larry Bilansky who specializes in "nontraditional portraiture" and live action photography such as the performance of theatre, sports, and dance; Maryann Flick presents several photographs as well as new stained-glass panels and boxes – both functional and decorative; and Stephen Martin, presents his dreamy archival digital print, Hourglass.
Many Spectrum potters, glass artists, fabric designers and other fine artisans are exhibiting their pieces at the Gallery. Jean Luc-Godard is back with several new lamps created from laminated wood and handmade mulberry paper with original, geometric designs. New to Spectrum is Marsha Leavitt, a New England basket artist best known for her functional reed basketry and stunning pine needle art weavings. There are also new pieces by potters and ceramicists Claudine Burns Smith, Rosemary McClain and Steven Bernard, as well as new pressed flower creations by Spectrum botanical artist, Anna Sidorow. Fabric designer Elaine Sych offers new pieces; Irene Dizes, also a fabric artist, offers a number of new pieces using an array of felting techniques. Other artisans at Spectrum include Joanne Brown who creates decorative mirrors and objects, and new is Shaunda Opalacz who creates "love" greeting cards (just in time for Valentine's). Spectrum offers a wide range of new jewelry designers including new pieces by designers Emily VanDerMaelen, Lori Meehan, Monique Tobet, Carol Dorman and Jessica Dickens and many others.
Spectrum Gallery, open Wednesday-Saturday (12-6pm) and Sunday (12-5pm), is an expansion of the non-profit Arts Center Killingworth which organizes classes, workshops, and summer art camps for children and teens. For more information call Spectrum (860) 767-0742 and visit spectrumartgallery.org; or the Arts Center (860) 663-5593.