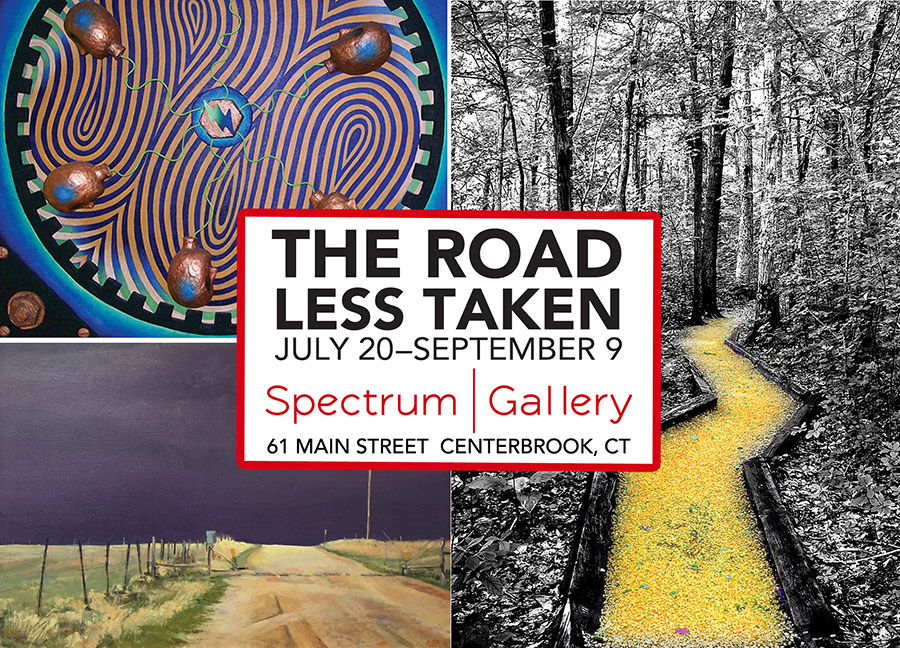 Spectrum Gallery Presents The Road Less Taken
The Newest Exhibit in Centerbrook Opens July 20th
Spectrum Gallery and Store of Centerbrook, Connecticut presents The Road Less Taken, its latest exhibit which explores the use of pathways – obvious or secretive – that invite viewers to imagine where a road or life pathway may or may not lead. The seven-week gallery show runs from July 20 through September 9 and showcases one-of-a kind new fine art and crafts including photography, painting in oil, acrylics and watercolor, as well as a variety of original mixed media works. Located at 61 Main Street, Centerbrook, Spectrum Gallery invites the public to an Open Reception for The Road Less Taken with wine and refreshments on Friday, July 20 from 6:30-9 pm.
"This was an exciting show to curate. I started with one idea but then as submissions came in the artists and their pieces broadened my view." notes Barbara Nair, Spectrum Gallery Director, "It was truly a creative partnership. The exhibit displays not only roadways and pathways in different seasons and locations both representational and abstract but also the unique life pathways of immigrants and the LGBTQ world. Let's share pathways during the show and maybe we can build an event around them."
Artists and fine artisans from across Connecticut, New York and throughout New England are exhibiting (both returning and new ones to Spectrum) including many established and emerging painters who work with a variety of mediums and styles. Presenters include Aleta Gudelski who captures landscapes and other scenes with a powerful blend of abstraction and realism through the vivid use of color; Rosemary Webber, an illustrator, pen-and-ink editorial artist whose work was regularly published in The New Yorker and who is currently exploring watercolor and oil in her work; painter and pastel artist Gigi Liverant who creates brightly-colored landscapes and street scenes with a intense and hypnotizing use of colorful pastels and acrylics; Carol Dunn an award-winning printmaker and mixed media artist who is showing several black and white etchings of the Outer Banks off the coast of North Carolina; and Christopher Brown, an abstract painter, who in addition to working on canvas and paper, creates with wood and metal.
Other fine artists participating in The Road Less Taken are award-winning artist and educator Pam Carlson who exhibits several new landscapes; landscape artist Gabriella DuCharme; Pat Tanger who returns to Spectrum to present several outdoor scenes captured with pastels that are imbued with impressionistic flare; Mark Rich who paints with wax and oil paint; award-winning painter Gigi Genovese who uses acrylics on hardboard; as well as pastel and oil painter Jane Penfield.
Additionally, fine artists presenting new pieces in the gallery show include Rita Bond, Amanda Merritt, Catherine Satsuk, Denise Gaffney Hartz, and Diane Cadrain.
Mixed media works are strongly represented in the exhibit including unique creations by artist Deborah Simmons who uses paint, photography and ink in her work; Heidi Coleman who creates unique mixed media assemblages; Marsha Borden, who combines vintage maps with various elements of debris to explore environmental degradation; and painter and mixed media artists Margaret vonKleist Edmond who returns to Spectrum with a new 3-dimensional piece in her signature style.
Many fine examples of photography are offered in The Road Less Taken and include new works by photographers Dianne Roberts, Faith Bilansky, George Fellner, Howard Margules, Larry Bilansky, Paul Ramsey, Sally Perreten, Robert Thomas, and photographer and glass artisan Maryann Flick.
Several fine artisans presenting in the exhibit include Jean-Luc Godard, an emerging artist who primarily works with sculptural lighting and favors wood and pottery in his creations; Lori Rembetski who creates whimsical pieces with wood and terra cotta; as well as glass artisan Edith Deeg who creates with fused and dichroic-glass.
As always, the Gallery Store at Spectrum continually offers new and original creations in pottery, ceramic, fabric, glass, wood, as well as some of the most original jewelry pieces on the Shoreline. Spectrum is open Wednesday through Saturday (12-6pm) and Sunday (12-5pm). The Gallery is an expansion of the non-profit arts organization Arts Center Killingworth which offers classes, workshops, camps and whose mission is to provide opportunities for emerging and established artists to develop, display and sell their work. For more information call Spectrum Gallery (860) 767-0742 and visit spectrumartgallery.org. To learn more about the Arts Center Killingworth call (860) 663-5593 and visit artscenterkillingworth.org.