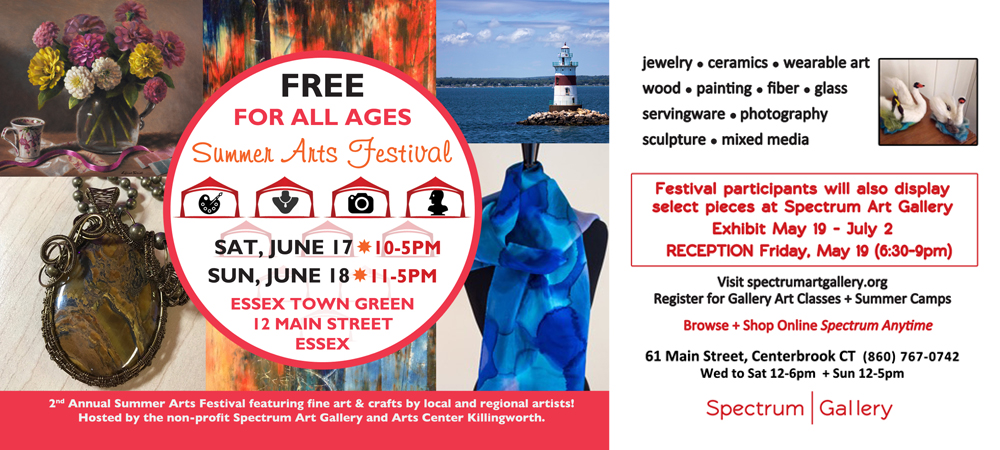 Spectrum Gallery Presents
The Summer Arts Festival Gallery Group Show
Spectrum Gallery and Store of Centerbrook, CT presents the Summer Arts Festival Gallery Show (May 19-July 2) featuring select pieces of artists participating in the Essex Town Green Festival (hosted by the Arts Center Killingworth, June 17-18). This juried gallery exhibition is a mixture of painting – both representational and abstract – as well as mixed media, sculpture and photography.
Many artists are returning such as painter Colleen Casner while presenting for the first time at Spectrum are painters Ned Farrell, Jacqueline Barry, abstract artist Lauren Verner and watercolorists Candace Bialczak and Pamela Morgan. Also exhibiting are mixed media collage artists Sandra Baker and Regina Thomas and fabric artists Emily Dale and Deki McKenney. Returning photographers include Normand Charlette and Robert Thomas. New to Spectrum are Avery Bart showing select photographs from his upcoming book, as well as Vincere Noel showcasing his unique vision through his one-of-a-kind digital collages.
Fine festival artisans exhibiting in the gallery show include award-winning potters and ceramicists Hayne Bayless, Debra Rosen and Nancy Scilipote. Also showing is sculptor Sam Zeldner who creates whimsical artwork from found objects and returning to Spectrum and the festival are glass artisan Francis Barkyoumb. A new glass artisan juried into both the festival and gallery show is Jeni Gray-Roberts showcasing her stunning glass panels and art glass jewelry. Fine jewelry designers who work with a variety of materials and in many styles include Lauren Mullaney, Anne Mulligan, Azra Hussain, Barbara Raleigh and beaders Lisa Long, and Pauline Clifford.
"Artists at Spectrum both in the festival as well as those who are returning for this early summer show consistently bring to the gallery and store some of their most unique and desirable pieces, " notes gallery director, Barbara Nair. "As a gallery and store which is only three years old, we are very lucky to be involved with such loyal and creative people so we are honored to showcase their work not only at the upcoming Essex festival but also in this 6 week gallery show. "
Visitors can see a preview of the artists included in the Gallery Show and June Essex Festival by visiting spectrumartgallery.org for artwork galleries and bios of each artist. Check back regularly as additional artists are joining the Festival weekend. More photos can also be found on facebook.com/artscenterkillingworth, twitter.com/arts_center_ct, and instagram.com/spectrum_art_gallery.
Spectrum Gallery and Store, an expansion of the nonprofit Arts Center Killingworth, is a contemporary, light-filled space showcasing regional and national artists, both emerging and established. In addition to painting, sculpture and photography, the Gallery includes a Store which offers fine crafts in mediums such as fabric, glass, ceramics, paper, pottery, jewelry, wood and more. For information about Spectrum Gallery visit spectrumartgallery.org or call (860) 767-0742. Gallery hours are Wednesday-Saturday (12-6pm) and Sunday (12-5pm).
The non-profit Arts Center Killingworth, founded in 2004, offers ongoing art workshops, classes, intensives and private art instruction for established and beginning artists of all ages. Additionally, the Center offers art options for children and teens including After School classes at the Gallery, Summer Art and Fashion Camps and Art Birthday Parties. For information about the Arts Center's programming visit artscenterkillingworth.org, call (860) 663-5593 and email [email protected].