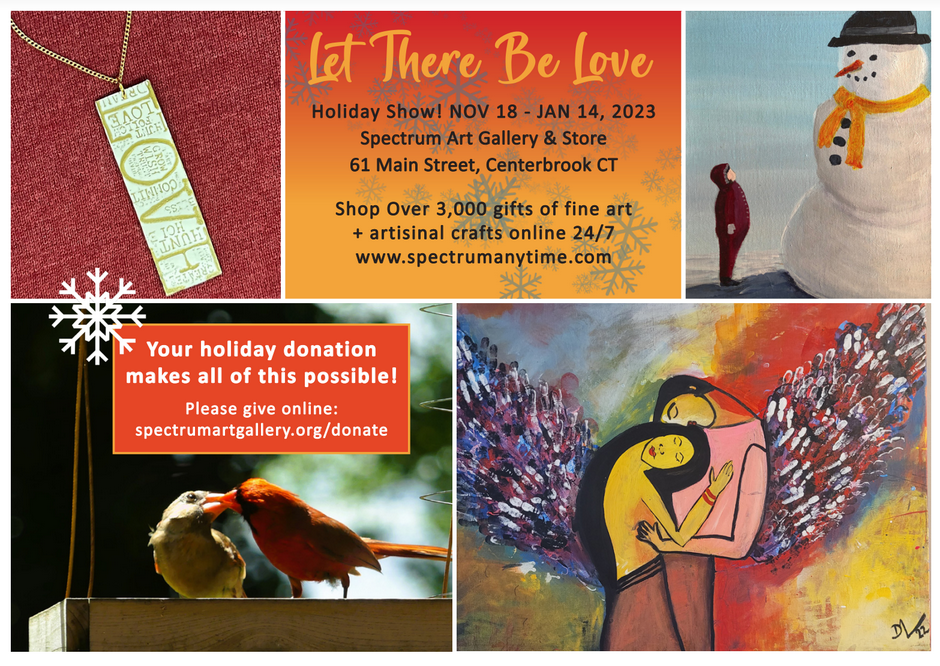 Let There Be Love
Spectrum Art Gallery's Holiday Show Opens November 18
Spectrum Art Gallery and Artisans Store of Centerbrook presents its 2022 Holiday Show, Let There Be Love with an opening reception Friday, November 18 (6:30-9pm) and an open house weekend Saturday and Sunday, November 19 and 20. The eight-week exhibit, through January 14, 2023, presents new and original artwork and fine crafts that celebrate the holiday season to show our love for others. The exhibit is located at 61 Main Street, Centerbrook, CT, and offers visitors the opportunity to take in art and fine crafts, enjoy a glass of wine and snacks while celebrating the opening of the show and hope for the upcoming season.
Let There Be Love is the place to go for art lovers to add to their collections and discover a fine craft for oneself or a thoughtful and unique present. There are dozens of one-of-a-kind stocking gifts, as well as handmade ornaments crafted by local fine artisans available for purchase from the Gallery's six-foot annual Holiday Tree. Many returning favorites as well as those presenting for the first time include Molly Waite Lund, an analog collage artist who continuously experiments with color, shape, relationships, and negative space. She repurposes vintage papers as a reminder of the history that has shaped her life. Deepti Gondia, born in India, where color is part of every festival paints in semi-abstract and abstract styles. Artist Caroline Joy Adams presents at Spectrum and is the creator of a successful product line of calligraphic prints and the author of a highly regarded book on calligraphy.
Dan Dahlstrom is an award-winning artist who paints scenes of his beloved Chester, Connecticut, the Connecticut River, the Long Island Sound, and surrounding vistas of the beautiful New England countryside. Spectrum favorite Gloria Nilsson presents new work. She is a teaching artist who works in a variety of mediums – even painting on silk – applying multiple techniques to her fine art paintings, jewelry and scarves. Jeannette Delmore who loves the flow and mystery of watercolor returns to Spectrum. Artist Jennifer Gibson also returns to the Gallery, an illustrator of several children's books, she creates presents two illustrations from one of her many children's books.
Anna Mastropolo, a textile artist, jewelry designer, and large-scale gouache and mixed media painter has new clothing accessories for Let There Be Love. Linda McMillan is a Connecticut artist who loves to wander in nature is known for her decorative ceramics, often whimsical in nature, as well as her expressive portrait ceramics, ornaments and photography. Others presenting in Let There Be Love include Catherine Satsuk with a heartwarming oil on canvas; painter Kristine Schiavi who paints land and seascapes, still life subjects, and portraiture. Kim Coughlin who painted throughout most of her career (primarily in acrylic), also works in mixed media and experiments with abstraction, expressionism, and bold use of color. Other painters and mixed media artists include Cheryl Seaver, Glynnis Sorrentino, Ned Farrell, Patti Maher, Regina Thomas, Maria Johson, Pat Damiani and Kim Kordonowy who presents a new vibrant work in mixed media, and new to Spectrum Marianne Dietz with whimsical mixed media pieces of playful characters.
Returning favorite and new photographers at Spectrum include Maryann Flick who presents Love Is in the Air, a fine art photograph perfectly fitting for the exhibit. John Lamirande, new to Spectrum, grew up in Minnesota which gave him an early appreciation of the beauty of the great outdoors and a love of exploring and photographing the beauty it holds. Mallorie Ostrowitz looks beyond the large landscape, focusing on extraordinary details of ordinary objects, a close-up approach, reflections, and how light interacts with architecture. Photographer Zili Zhang subjects range from landscapes to people, street documentary to travel; he combines elements of both Eastern and Western art. Other important photographers include Paul Ramsey, Robert Thomas, Dianne Roberts, Elaine Sych, Larry Bilansky, Lynn Wayne, Carol Lowbeer, and Mary Dutko.
Spectrum's annual Holiday Show includes artisans working in ceramic, pottery, glass, fabric, wood, wax, paper and more. Beth Terhaar presents a variety of fine jewelry and holiday ornaments while Carol Dunn offers her annual glass trees and cards. Ceramicist Caroline Yankura shows beautiful pieces in rich, organic colors. Sandi Nyren adds to her mini-pottery pieces in a variety of shapes, colors and finishes. Niko Scharer is a ceramic artist with a focus on functional pottery. She explores the fusion of beauty and purpose in clay while employing varying techniques on the wheel, through hand building, surface design creation, glazing and firing. For this show she also displays porcelain trees, scented candles and ornaments. Artisan Carole Young shows new painted glass work; Sharon Lewis joins the show with fused glass creations such as decorative boxes and ornaments; and Sharyn Farrell presents polymer clay mini sculptures. Potter Eric Ambler adds to his collection at Spectrum. He primarily works on wheel thrown pottery and enjoys various combinations of glazes and firing techniques. Jean Gresham offers holiday décor created from fused glass, stunning functional serving ware and her lively fused glass jewelry line.
Other artisans include knitters Christine Rook and Elaine Sych; candlemaker Janice Wood; Jean-Luc Godard who delights with decorative light impression lamps; Marc Dutko, a fine woodworker who creates artisan, heirloom-quality kitchen serving ware; and Monique Fazzone – seamstress extraordinaire – has new elegant leather handbags. Also presenting new works are artisans Guy Veryzer, Kathy Lechler (with a new line of holiday cards), Linda Reid, Tom O'Connell, Bill Waldron, and Lynn Webber. Many fine jewelry designers include Susan Dangle, Jean Gresham, Joanna Biskupski, Kristie Foss, Linda Saucier, Sandra Huber, Joan Wenzel, Sue Braden Hull and for the first time Lina Wilder and Michele Kleiman who presents an array of elegant pieces.
As mentioned, Spectrum exhibits its annual Holiday Tree with stunning, original ornaments to enjoy in the Gallery, and for purchase for home or given as a thoughtful gift. Many artists and fine artisans have contributed ornaments to the Tree as well as have created one-of-a-kind holiday cards and decorations.
Spectrum Art Gallery and Artisans Store is open Wednesday through Saturday (12-6pm) and Sunday (12-5pm). Between December 10th and 23rd, the Gallery is open daily 12-6pm; on December 24, open 11am-3pm. Shop our online gallery and store 24/7 Spectrum Anytime at spectrumanytime.com with shipping available throughout the US – a perfect choice for convenient holiday gift giving; gift cards are also available in the Store and online. For more information call (860) 767-0742 and visit spectrumartgallery.org. Follow on social media at facebook.com/spectrumartgallery, instagram.com/spectrumartgallery, and twitter.com/spectrum_ct