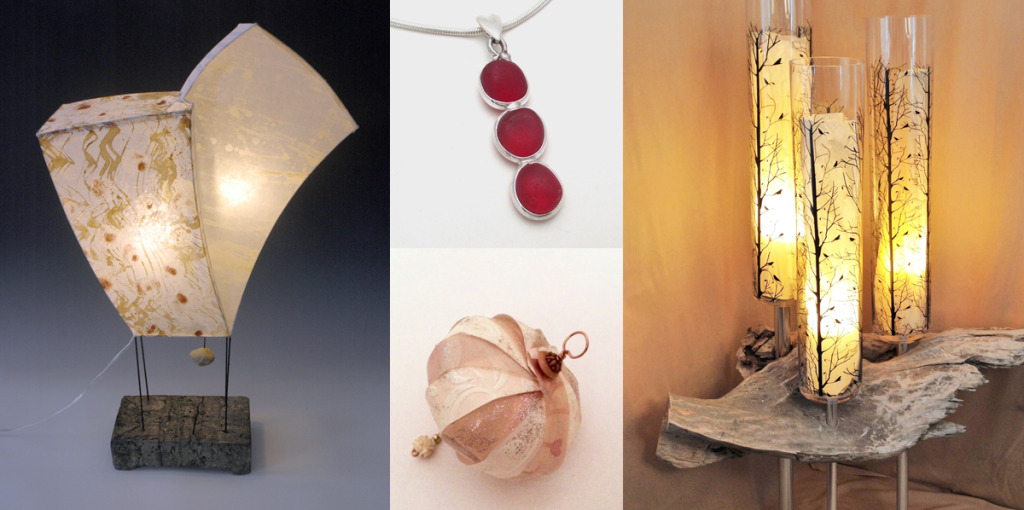 Spectrum Gallery and Store's Holiday Show (November 20, 2015– January 10, 2016) captures the magic of the holidays in Let There Be Light. As winter arrives, the gallery and store glow with the imagination and creative work of artists who use light, reflective surfaces, glass, metal, as well as depict light in unique and at times mysterious ways. Included in the exhibit is a mix of both emerging and established figurative and abstract painters, sculptors, photographers and mixed media artists. The Artisan Store at Spectrum is filled with new and unique pottery, jewelry, art glass and knitwear. The seven-week show, located at 61 Main Street, Centerbrook, Connecticut includes an Open Reception, Friday, November 20 from 6:30-9 pm.
"I have always been attracted to the magic of lights everywhere during the holiday season. From the most expensive homes to more modest ones, people express their holiday spirit with light. As I want to honor this spirit through the arts, it permeates every work in the gallery and many in the store in this show," notes Barbara Nair, Director of Spectrum Gallery.
Presenting during Let There Be Light are painters Christine Ivers and Gigi Horr Liverant who explore both the striking contrasts and ample textures illuminated by the light of day and the dark of night. Boston-based painter Jennifer Costello exhibits her painting, Thousand Winds that Blow, which exemplifies her work capturing the feeling of motion – human and natural – through color, light and creative texture. Painter Nan Runde creates dreamy cloudscapes in both oil, and lithographic crayon in which fog and darkness challenge viewers to look for what is barely discernible or beginning to emerge. Other painters exhibiting are Ursula Coccomo, Margaret von Kleist Emond and Patti Bullock.
Photographer George Fellner presents work that captures the brilliance of clear, three-dimensional trapezoidal crystals, photographed using natural sunlight, dispersed with prismatic effects to create brilliant color. Sally Perreten exhibits photos of gloriously lit nature in both forest scenes, land and waterscapes. Joseph Buberger shows sunray pieces which he creates with prisms and mirrors—a science called catoptrics, and photographer Paul Ramsey offers several vibrant and compelling landscape images.
New to Spectrum is emerging glass sculptor Olin-Tosi who creates cut plate glass works with exciting shapes, contours, texture and movement. Also a first at Spectrum is Sooo-z Mastropietro presenting Interknet, an unusual sculpture made of knit cable and electronic wire, built on an organza background. Returning to Spectrum for the holiday show are the new metal wall sculptures of artist Beverly Waters whose copper and steel pieces constantly shift the viewer's focus as the metals reflect and break up light.
And what would a show focusing on light be without truly outstanding lamps as designed and built by award-winning artists Hayne Bayless and Liz Pagano whose sculptural works are made with translucent paper, monotype with encaustic, steel wire, concrete and beach stone. Artist Nancy Gould takes a different approach with her creations made from felted fabric, while Fernando Pabone builds illuminated sculptural works using glass, wood and other materials. Artists Amy Hannum and Pam Erickson return to Spectrum with Hannum presenting electric "cosmic nebulae discs" that can be hung to provide a warm, glowing light to contemplate all seasons while mixed media and conceptual artist Pam Erickson shows several thought-provoking pieces uniquely lit from within.
Gifts for the season in the Store include new pottery, painted glass, original fine jewelry, botanical art, home décor, fabric and knit wear for adults, children and babies and new this holiday, a selection of jewelry, and pocket squares for men.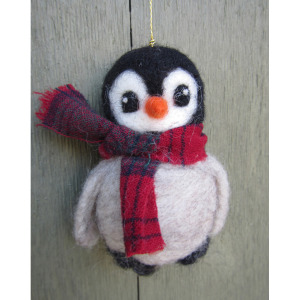 In addition to being a holiday gift destination, Spectrum Gallery will exhibit a six-foot holiday tree embellished with ornaments created by local artists and a selection of handcrafted greeting cards. Also offered are three holiday events for the public: Sunday, November 29 (1:30-3:30pm) a Wire Globe Ornament Workshop; Saturday December 5 (1-3:30-pm) a Holiday Wreath Design Workshop; Friday, December 11 (7-9pm) an elegant paper and wire Ornament Workshop as a special evening for Arts Center Killingworth and Spectrum Gallery Members and Donors. Wine and desserts are served with Members and Donors free with one guest. ($5 for materials for the general public). Sunday, December 13, 1-4pm, is the holiday Free Family Day where all can enjoy stories and songs of the season, holiday art projects and an art scavenger hunt.
Spectrum Gallery and Store holiday hours are Wednesday-Friday (11am-6pm); Saturday (11:30-6pm) and Sunday (11:30am-5pm). Beginning December 14 until Christmas Eve, Spectrum will be open Monday-Friday (11-6pm); Christmas Eve the Gallery closes at 5pm and reopens Saturday, December 26 at 11:30am.
Spectrum Gallery is an expansion of the non-profit Arts Center Killingworth which offers classes, workshops and art camps and provides opportunities for emerging and established artists to display and sell their work. For more information call Spectrum Gallery (860) 767-0742, visit spectrumartgallery.org or the Arts Center (860) 663-5593, visit artscenterkillingworth.org.