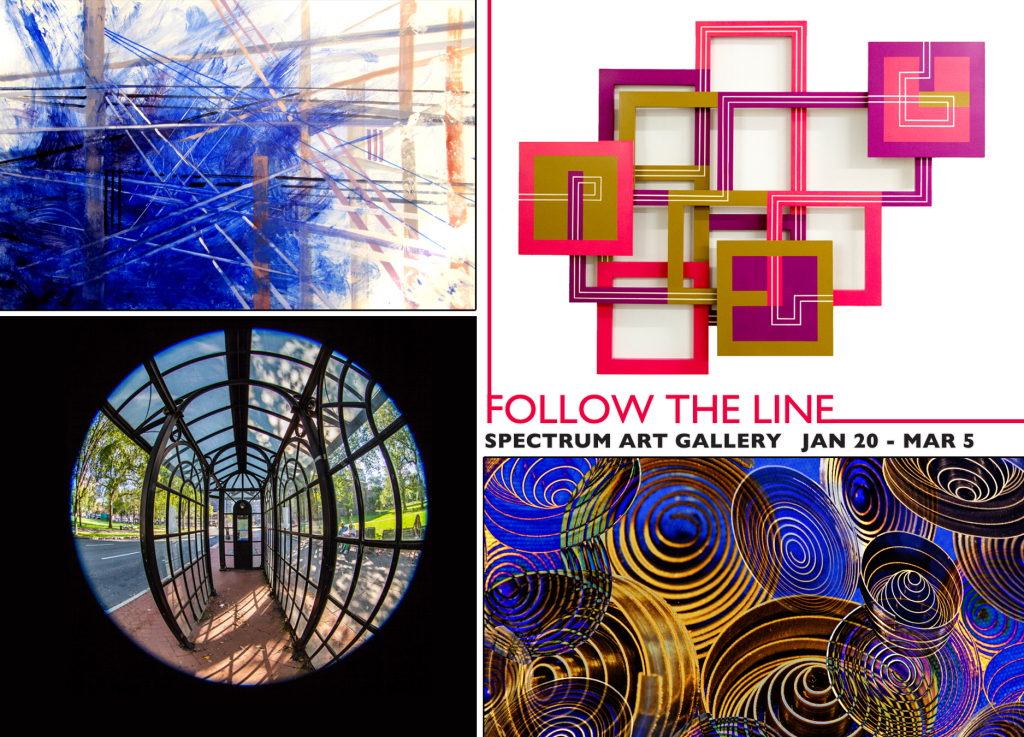 Spectrum Gallery Presents Follow the Line
The Line, a building block of all forms of art is the subject of the first exhibition in 2017 at the Spectrum Gallery in Centerbrook. The show, from January 20, now through March 12, explores movement from one point to the other, or as painter Paul Klee once said in describing the line as "a dot that went for a walk". Included are drawings, photographs, representational and abstract paintings, mixed media and sculpture. Held at Spectrum Gallery and Store, 61 Main St., Centerbrook, CT, the show includes an open Reception on Friday, January 20 from 6:30-9 pm.
"The submissions for this show even in the mist of the holiday season were extraordinary," notes Barbara Nair, Spectrum Gallery Director, as are the chosen pieces in the show itself. Most of us don't even realize lines in all of their permutations make up our daily world. Scribbles, dots, shapes and outlines are the first explorations children use to understand their world and, of course, by having fun are developing their own art voice. So in this winter show at Spectrum let's all remember we all played with art once and it was fun! Enjoy the show"
Artists from Connecticut, New York and throughout New England are exhibiting and include Amanda Kidd Schall who combines monotype, chine colle, dry point etching, and linoleum block printing to create, multi-dimensional works, with subject matter including nature and abstract landscapes. Painter Amy K. Lewis who works in oil, acrylic watercolor, and linocut prints, presents several pieces including "Arabesque No. 1," in which she uses common household materials, like dental floss and sewing thread to paint onto the canvas to produce abstract works.
Painter, sculptor and installation and performance artist Robert Gregson presents for the first time at Spectrum. Nationally-known and award-winning, he has exhibited in many solo and group exhibitions in galleries and museums. He uses architecture as an element in his playful installations with work encouraging viewer interaction. His body of work was published in the 2011 book, Full Circle, The Work of Bob Gregson. Artist, arts educator and director Ana Ruiz-Castillo explores the correlation between nature and the human state-of-mind in her oil painting series, "Periodo Rayado". With repetitive line, she illustrates nature's abstract capability. Ruiz-Castillo was the Director of Visual Arts at the Harlem School of the Arts and has taught in New York and New England.
Andrew Laverty, a painter, printmaker and mixed media artist works in relief print, silkscreen and collage. His work combines new and old processes and materials, and explores dichotomies like old vs. new, chaos vs. order, and sacred vs. profane. Award-winning sculptor Olivia Ann Rolston presents pieces which explicitly explore the line in both wood and stone; inspiration for her work originates from local architecture, nature and boating. Artist Cynthia Cooper creates minimal and meditatively soothing works with intricate mark-making techniques including two acrylics on canvas for the show. She is an award-winning artist, including for her work Under the Surface No. 1 at the Nor'Easter 44th Annual Juried Members Exhibition at the New Britain Museum of American Art. Painter Linalynn Schmelzer, who exhibits her work Dusk has a background in dance and movement, which allows her paintings to evolve using shape and color.
Fine artist, graphic designer and calligrapher Judith Osborne returns to Spectrum with two calligraphy works for Follow the Line. Her work is in the Mobile Museum of Art, Federal Reserve Bank of Philadelphia, and university library special collections. Also returning is Amy White who exhibits two representational oils on wrapped canvas. She works with oils and acrylics, and paints en plein air, still life, nature and portraits. Showing also is Diane Brown, another Spectrum favorite. She is an Elected Artist of the Mystic Museum of Art and a member of Lyme Academy of Arts.
Melanie Carr, a Connecticut-based artist, presents work for the first time at Spectrum. Her work is in the New Britain Museum of American Art, The Loomis Chaffee School, and the Boston Public Library. Joanne Tarlin, an abstract painter and arts educator, also showing for the first time at Spectrum, works in oil and watercolor. She presents several pieces in this exhibition including her piece "Homage to Kandinsky". Oil painter Judith Meyers is showing several oil portraits, entitled Emerald and Repose which exemplify the power of the bold use of line in her representational pieces.
Suzanne Kirschner paints and draws in various mediums and has exhibited and won awards at the National Art Educators Association Gallery, New Britain Museum of American Art, and Mystic Art Museum. Painter Jay Babina is back at Spectrum to exhibit his new piece "Hard Wired," an abstract work with vibrant colors and powerful brushwork. Babina is an artist with over 40 years of experience as a painter in watercolor, acrylic and oil, as well as experience in graphic design and illustration. More powerful new collages and mixed media works are once again presented at Spectrum by Regina Thomas, an artist included in museums and galleries both nationally and abroad. Ty Davis, a New York, artist returns to Spectrum presenting several new abstract expressionist works that explode with vivid colors and texture. Victoria Sivigny also returns with several large abstract acrylic works on canvas. A prolific artist, she has presented at the New Britain Museum of American Art, Mattatuck Museum, and Slater Memorial Museum. Painter Rosemary Cotnoir is currently experimenting with patterns as an underlying structure to organize surfaces in a consistent manner. She uses forms that are derived from nature such as spirals, lines, dots, and waves.
Photographers include Dianne Roberts who has won awards for her work including the Connecticut Flower Show, the UCONN Stamford Photography Show, and the Audubon Society's exhibit "Our Natural World". Returning to Spectrum is also Elin Dolle who presents two atmospheric photographic winterscapes. Maryann Flick shows several photographs including Cow Parade and Lunar Eclipse. Flick has won multiple awards and has been published and presented in magazines and on Fodor's Travel website. Robert Thomas who is displaying his photograph New Haven Stop, explores themes inspired by landscape (urban or rural), and the imagery captured in reflective surfaces, and weathered and worn structures.  Sally Perreten also presents new photographic work including both representational and semi-abstract pieces. Sezgi Hermans, who grew up in Istanbul, returns to Spectrum. Both a photographer and painter she exhibits, A Convergence of Turkish Snow Trails and A Dutch Road to Neverland. Hermans work is an attempt to capture the idealized essence of experience and memory when natural light provides a unique perspective.
As always, a variety of fine artisans both new and previous exhibitors at Spectrum's Store are offering new work in mediums such as pottery, ceramics, fabric, wood, paper, jewelry and more.
Spectrum Gallery and Store is open Wednesday through Saturday (12-6pm) and Sunday (12-5pm). The Gallery is an expansion of the non-profit arts organization Arts Center Killingworth which offers classes, workshops, camps and whose mission is to provide opportunities for emerging and established artists to develop, display and sell their work. For more information call Spectrum Gallery (860) 767-0742 and visit www.spectrumartgallery.org. To learn more about the Arts Center Killingworth call (860) 663-5593 and visit www.artscenterkillingworth.org.