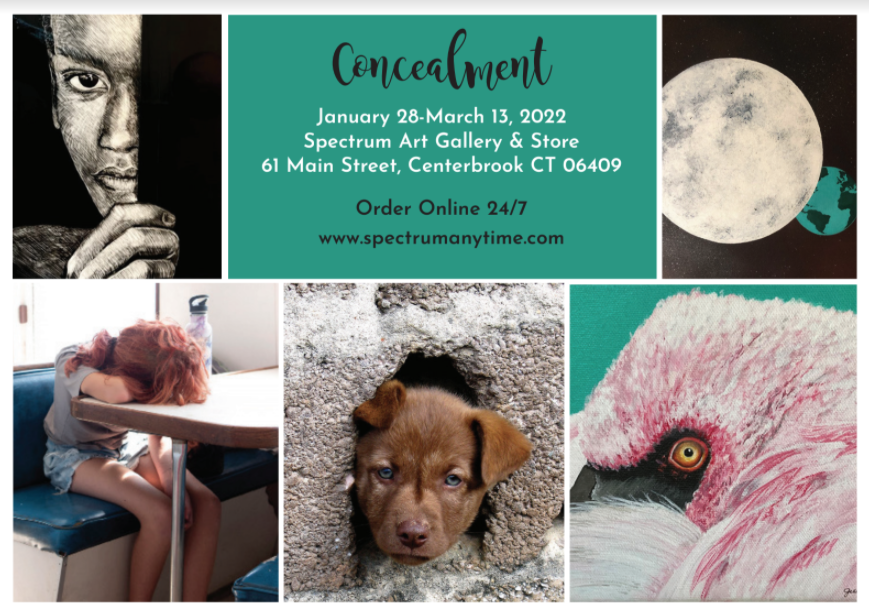 Concealment
Spectrum Art Gallery's First Exhibit of 2022 Opens January 28
Spectrum Art Gallery and Artisans Store of Centerbrook presents Concealment with new and original abstract and representational artwork that explores the concept of "concealing". Opening Weekend schedule has been updated: We are closed Saturday, Jan. 29th, due to inclement weather. Open Sunday, Jan. 30th weather permitting. Please call the gallery before coming on Sunday (860)767-0742. 61 Main Street, Centerbrook, Connecticut. Discover new art and fine crafts while enjoying wine and snacks. Concealment runs through Sunday, March 13.
"We all hide things from ourselves and others," notes Barbara Nair, Director of Spectrum Art Gallery and Store, "both emotionally and physically…for seclusion and protection. In this first show of 2022, we want to explore this powerful idea through an artist's view, as they use screens, shelters, walls, veils, masks and weather in their pieces. These concealments can be hostile, joyous, mischievous, mysterious or seductive."
Artists presenting in Concealment include Diane Ward, a painter, collage, and mixed media artist who examines interconnections between people, within nature and the universal forces that transform lives; Dina Belyayeva, an award-winning artist whose work is primarily representational, covers subjects that capture intimacy, impermanence and contemplation. Born and raised near Moscow, she trained in fine art at a school affiliated with an artist colony where many great Russian artists found inspiration.
Nancy Dudek, focuses on landscape painting and still life, presenting subject matter that spans both the representational and abstract. Interestingly, her work at times includes Connecticut tobacco sheds, small structures she admires for their symmetry and placement on the landscape. A part of Connecticut's history starting in the 1830s, tobacco sheds were designed to dry or "cure" the lucrative crop with unique venting systems. New to Spectrum is Darla DiRusso who shows a white wolf peering from behind a large tree. Darla enjoys painting so much she paints daily with her daughter. Painter and graphic artist Greg Murry also joins Spectrum for the first time; he creates colorful and detailed paintings of various subjects including rusty trucks, airplanes, boats, birds, and tropical beach scenes. Gwendolyn Quezaire-Presutti is a "Living History Actor" who has garnered numerous awards; her visual art creations include abstract drawings, mixed media, and collage designs.
Returning fine artists include Regina Thomas, known for her adventurous use of mixed media in her collages, she presents a vibrant work entitled "Seek"; Lauren Mills, an award-winner who has been featured in many publications including Fine Art Connoisseur and The New York Times, exhibits her "Gnome Hides from Owl", a shimmering oil on wood panel. Artist Elayne "Layne" Marholin returns with new imaginative watercolors, and Patricia Parente is also back showing several watercolor and cut paper scenes of fish, playfully exploring their maritime colorful worlds. Patricia Corbett returns with "Lifting of the Veil" a thought-provoking work in oil; she is known for mixing French and Californian Impressionistic styles. Celebrated portrait and figurative artist, Ted Genard, once again at Spectrum provokes mystery and surprise with several stunning female portraits.
Teri Glassman shows a new egg tempera work; she explores multiple mediums and is often found working en plein air. Vincent Palladino, a fine painter and sculptor from New York, presents new work, as does painter Stephanie Rogers who crafts peaceful "soft-scapes" or scenes to soothe the soul. Ceal Swift returns with a brooding landscape in acrylic; Claudia van Nes exhibits several scenes of nature in acrylic and watercolor; and painter Dan Dahlstrom shows a dreamy New England seascape.
Returning Spectrum favorite Diane Rubacha created "Granite Berg", a relief woodblock print of a landscape scene of stone, trees, and mountains in earthy color tones. Gloria Nilsson shows a bucolic work of a prairie schooner crafted in oil stick. Kearen Enright, a mixed media artist, presents captivating portraits on scratchboard, a form of direct engraving where dark ink is scratched off to reveal a white or colored underlayer; and painter and calligrapher Ned Farrell offers a celestial mixed media piece in acrylic and spray paint.
Photographers at Spectrum include Colleen B. Reilly, an award-winning artist who shoots landscapes, wildlife, architecture, flowers, and people. Maria Johnson – typically a painter – shows several photographic works that exemplify her focus on expression and mood. Michael Fanelli exhibits several pigment print photographs made by digital inkjet printers that mix ink to create specific hues applied directly to paper in fine detail. Paul Essenfeld who considers himself a "street photographer" presents several limited-edition photographic prints; Paul Ramsey shows an endearing image of avian friends huddled together; and Robert Thomas brings new portraits and landscapes to the Gallery.
Spectrum's Store includes many fine artisans working in ceramic, pottery, glass, fabric, wood, paper and more. These include woodworker Andy Teran; glass artisans Joan Weir and Sharon Lewis; fine artisan Marie Angersola who adorns gourds; Claudine Burns Smith exhibits mysterious face masks created in stoneware; fine art glass by Maryann Flick, and finally, new innovative jewelry designs are available by Kristie Foss, Linda Saucier, Sandra Huber and many more.
Spectrum Art Gallery and Artisans Store is open Wednesday through Saturday (12-6pm) and Sunday (12-5pm). Shop Spectrum Anytime at spectrumanytime.com with shipping available throughout the US – a perfect choice for convenient gift giving all year long, with gift cards also available in the Store and online. For more information call (860) 767-0742 and visit spectrumartgallery.org. Follow on social media at facebook.com/spectrumartgallery, instagram.com/spectrumartgallery, and twitter.com/spectrum_ct