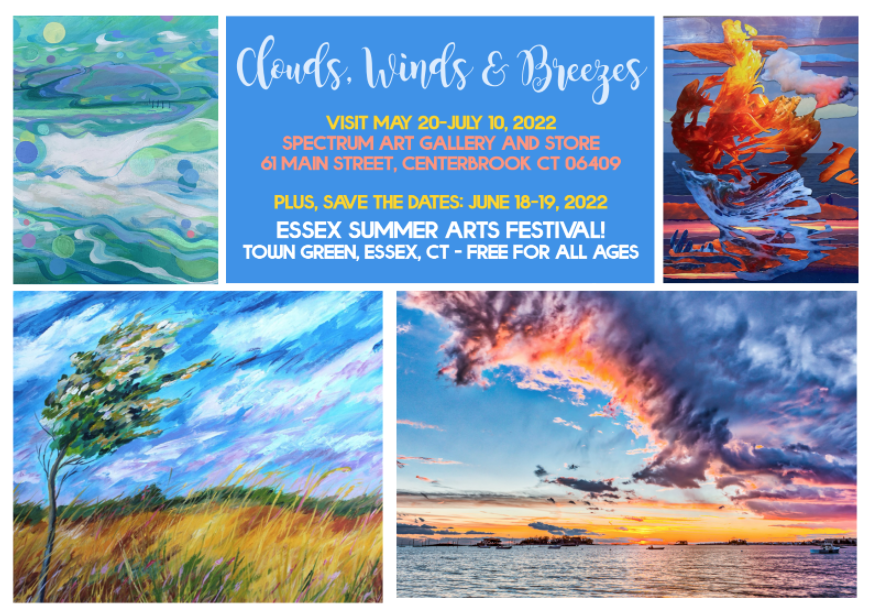 Clouds, Winds and Breezes
New Exhibit Opens at Spectrum Art Gallery on May 20
Spectrum Art Gallery and Artisans Store of Centerbrook presents its newest show, Clouds, Winds and Breezes. Artists from throughout Connecticut and the region present new and original abstract and representational artwork that features these elements of nature and how they affect the environment and people in the physical world. Exhibition begins with an Opening Reception Friday, May 20 (6:30-9pm) and then an Open House Weekend, Saturday, May 21 (1-6pm) and Sunday, May 22 (1-5pm). The exhibit runs through July 10.
Artists presenting at Spectrum include Katherine Lechler who is inspired by a love for the outdoors, particularly the beauty and serenity of the landscapes she sees each day. Rosanna Mitchell is a contemporary impressionistic artist who moved to Connecticut after many years in Jackson Hole, Wyoming. Eclectic in style, she is inspired by nature and paints in a variety of mixed mediums including collage papers that she handcrafts herself. New to Spectrum is Carol Courtney who creates with alcohol ink and chooses subjects that are organic and offer unique results given the unpredictability of this medium.
Jill Abele Butcher exhibits a pleasing impressionistic seascape filled with sailboats and onlookers from the shoreline. Patricia Corbett returns returns with several delicate seascapes in oil. Award-winning painter Dawna Hasara joins Spectrum for the first time. She works in watercolor which primarily reflects her love of nature and the outdoors. Rebecca Keller also presents for the first time and is an artist and art instructor who works in oil and has been juried into numerous exhibitions and is part of many collections. Marjorie Sopkin returns to Spectrum with new works on canvas and wood panel. Her imaginary landscapes have ongoing themes of color, texture, and spatial relationships. Michelle Kaufman, known for her vibrant, life-like figurative work, as well as conceptual text-based art, shows a dramatic piece that perfectly captures the theme of the show.
Regina Thomas exhibits her mixed media works and realistic collages, currently in cold wax and oil. Sabely Peralta, a painter and mixed media artist returns with new work, as does Sarah Baskin, who is attracted to the transparency of watercolor. Diana Boehnert shows several new pieces in gouache and a colorful, dramatic photocollage. John Murray who paints a wide variety of subjects returns with an expressive waterscape scene. And painter Stephanie Rogers, known as an artist who crafts peaceful "soft-scapes" or scenes to soothe the soul, shows several new pieces.
Other fine artists include Daniel Dahlstrom, an award-winning artist who paints scenes of the Connecticut River, Long Island Sound and the surrounding New England countryside. Diane Rubacha returns – not with her signature relief prints – but with new works in oil and watercolor. Ceal Swift shows skyscapes filled with dramatic cloud cover, and Teri Glassman returns with a dreamy oil work. Valerie Pettis is showing sea and cloudscapes in watercolor and is the illustrator of "Smeagull the Seagull," an award-winning children's book offered at Spectrum Gallery. Other favorites include Bivenne Harvey Staiger, a watercolor artist known for capturing dramatic natural motifs, debuting her new book about her watercolor technique, White! Light! Bright!; oil painter Dan Nichols, watercolorist Joanna Chapin and acrylic and oil painter Rita Bond all are exhibiting.
Fine art photographer Barbara Soares shows at Spectrum for the first time; she has exhibited throughout the region and presents new works on metal. Photographer Carol Lowbeer specializes in animals and seascapes which she enhances digitally; photographer Jamie Wilson is inspired by vibrant colors and photographing anthropomorphic nature shots. Yvonne Rafferty presents images of the aurora borealis; she primarily focuses on wildlife, landscapes, and astrophotography. Others returning include Dianne Roberts, Robert Thomas, Paul Ramsey, Michael Fanelli, Harry Rosenbluth, and Carol Dunn who shows a fine art pigment print photograph.
Spectrum's Store includes many fine artisans working in porcelain and stoneware, polymer clay, glass, fabric, wood, and paper. Andy Teran known for his driftwood carvings of whales; botanical artist Anna Sidorow presents new pressed flower works; Marie Angersola shows new creative gourds; Maryann Flick and Jean Gresham display high-end stained glass and fused glass home décor items, while Sharyn Farrell charms with her mini polymer clay sculptures. Other unique items are Lynn Webber's popular repurposed glass garden ornaments and Beverly Waters' welded metal home décor items. New jewelry designs are well represented by Kristie Foss, Sandra Huber and more.
Knitter Christine Rook – returns to Spectrum – creating everything from whimsical mittens, hats, and beautiful Icelandic style sweaters for children; clothing and fabric artisan Dale Gardner-Fox, presents new artful shawls and accessories; Joanne Brown brings a selection of her adorned frames; and Jean-Luc Godard delights with a variety of never before shown decorative light impression lamps. Other artisans include knitter and sewer Elaine Sych; slow stitcher Susan Zirlen, and Nancy Scilipote, Lynne Scullion and Niko Scharer offering new functional and decorative pottery items.
Spectrum Art Gallery and Artisans Store is open Wednesday through Saturday (12-6pm) and Sunday (12-5pm). Shop Spectrum Anytime at spectrumanytime.com with shipping available throughout the US – a perfect choice for convenient gift giving all year long, with gift cards also available in the Store and online. For more information call (860) 767-0742 and visit spectrumartgallery.org. Follow on social media at facebook.com/spectrumartgallery, instagram.com/spectrumartgallery, and twitter.com/spectrum_ct