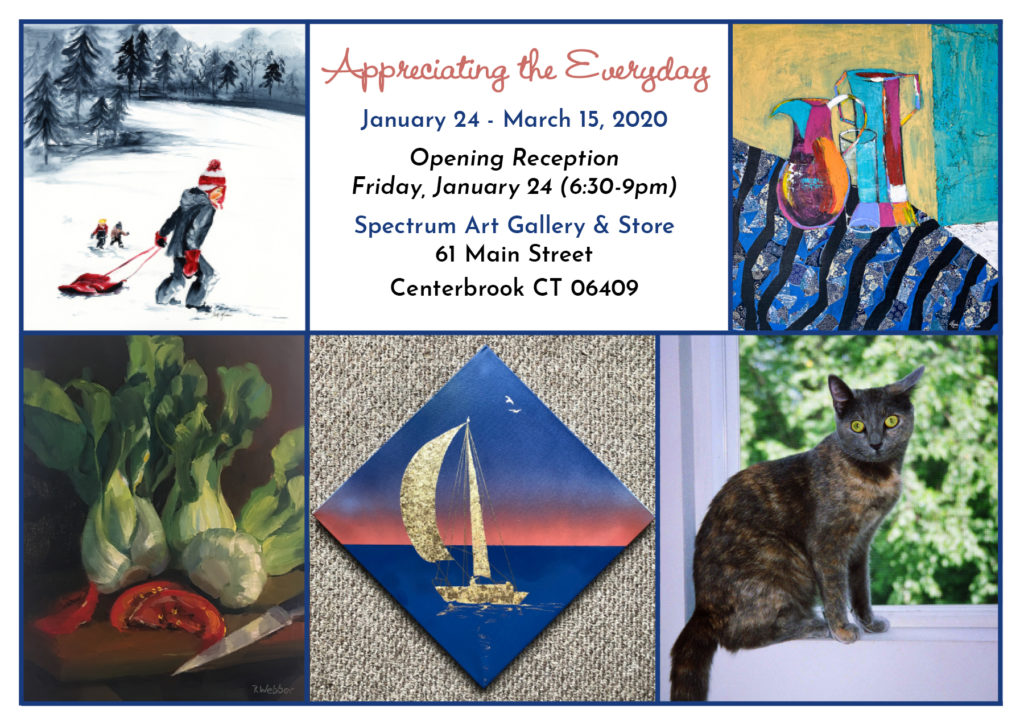 Appreciating the Everyday
Spectrum Gallery's First Exhibit of 2020
Spectrum Art Gallery and Artisans Store of Centerbrook presents its newest exhibit with the opening of Appreciating the Everyday. Discover new and original artwork that showcases the imagery of daily events and objects that while we may take them for granted, make our lives easier and more pleasurable – the family dinner, a bottle of wine, a fireplace, and more! Located at 61 Main Street, Centerbrook, Connecticut, the first show of 2020 includes an Open Reception on Friday, January 24 from 6:30-9pm with wine and refreshments. The seven-week show runs through March 15.
"During these cold, winter months it is a nice time to sit back and appreciate the daily events and objects that we may not notice as we rush from one place to another…..the baby sleeping, a warm cup of tea, our sweet, endearing pets. So take a breath and visit us at the gallery to find more to appreciate ," notes Barbara Nair, Director of Spectrum Gallery.
Presenting at Spectrum are both returning and new artists working in a range of mediums including new to Spectrum artist Patti Maher who is interested in simple, elegant lines, shadows and negative spaces. She works in pencil, pen and ink, watercolor, and at times a combination. Steven Ostrowski, also new to Spectrum, exhibits a playful, yet dramatic style in acrylic and gouache.
Other fine artists showing are painter Denise Gaffney Hartz who focuses on the abstract to express memory and experience in her work. Painter and photographer Lori Blados who lives part-time in Connecticut and Costa Rica both places enriching her visual aesthetic and contributing to her imagery and color palette; painter Melissa Imossi, a contemporary realist artist focusing on the source and flow of light in her images. Linda McCarthy whose paintings give hints of reality letting the viewer's eye and imagination fill in the rest returns to Spectrum with three still lifes as does Rosemary Webber exhibiting two new oils. A new artist to Spectrum, Sally Brown, working in acrylic and pastels shows both mediums in Appreciating the Everyday. Fine artist Mark Rich also returns to Spectrum and presents a vibrantly-colored abstract in oil and wax pastels on canvas. Linda Reid also returns to Spectrum with a watercolor still life inspired by her Grandmother.
Others presenting in Appreciating the Everyday include Catherine Satsuk with several heartwarming oils on canvas; Iacopo Pasquinelli, an Italian-born and award-winning painter whose work captures the romantic view of local countrysides and coastlines, but in the current exhibit presents a thoughtful and very personal portrait; painter and calligrapher Ned Farrell presents several fun mixed media works in the show; and Regina Thomas, known for her adventurous use of mixed media in her collages, returns to Spectrum showing several works.
Favorite photographers returning to Spectrum are Robert Thomas with several new pieces, as well as Dianne Roberts who captures images of the passage of time in animals and nature. John Hsu, a native of Taiwan, has exhibited extensively throughout the region and has published multiple photographic books including several dedicated to water reflection imagery. In Appreciating the Everyday, he captures the beauty of animals. Also, Howard Margules, who shoots a wide range of subjects but favors portrait photography, particularly candid, un-posed subjects; and Paul Ramsey, who presents a powerful photographic seascape.
Many Spectrum potters, glass artists, fabric and jewelry designers, and other fine artisans are exhibiting their pieces including Andy Teran who sculpts whales and fish using local driftwood; Marsha Leavitt, a New England basketry artist best known for her functional and decorative reed baskets and stunning pine needle art weavings and Maryann Flick who exhibits several new and stunning stained-glass panels. Numerous jewelry designers are also bringing in new pieces in preparation for Valentine's Day!
Spectrum Art Gallery and Artisans Store, open Wednesday-Saturday (12-6pm) and Sunday (12-5pm), is an expansion of the non-profit Arts Center Killingworth which organizes classes, workshops, and summer art and fashion camps for children and teens. The Arts Center also recently announced two Calls for Artists for 2020 – the Summer Arts Festival in Essex, CT and the Autumn Arts Festival in Madison, CT. More information on how artists can participate can be found on Spectrum's website, spectrumartgallery.org.
Spectrum Gallery and Artisans Store offer artists from throughout Connecticut and beyond the opportunity to develop, present and sell their artwork both online and at the Gallery, located at 61 Main Street, Centerbrook, Connecticut. For more information call Spectrum at (860) 767-0742 and visit spectrumartgallery.org. For more information about the Arts Center Killingworth call (860) 663-5593 and visit artscenterkillingworth.org.