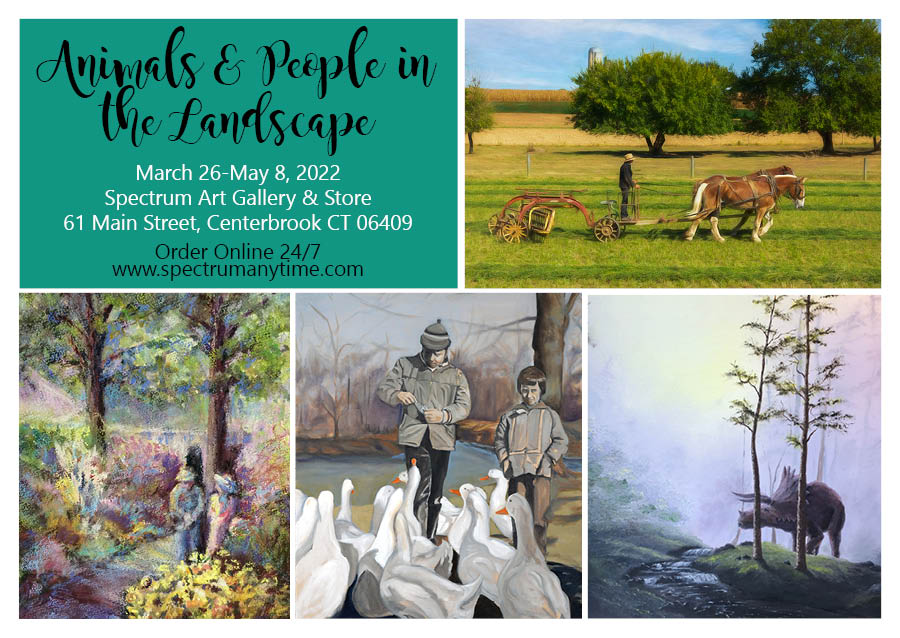 People and Animals in the Landscape
New Exhibit Opens at Spectrum Art Gallery on March 26
Spectrum Art Gallery and Artisans Store of Centerbrook presents its newest show, People and Animals in the Landscape. Artists from throughout Connecticut, the Tri-State Area and New England present new and original abstract and representational artwork which includes animals and people to enhance and give depth to their landscapes and waterscapes. Celebrate the opening of the show with an Open House weekend, Saturday, March 26 (1:00-6pm) and Sunday, March 27 (1:00-5pm) at 61 Main Street, Centerbrook, CT to discover new art and fine crafts while enjoying wine and snacks. People and Animals in the Landscape runs through Sunday, May 8.
Artists presenting include painter and educator Susan Bradley who shows at Spectrum for the first time. Her work explores varied subject matter and includes multiple techniques: sculptures inspired by honeybee culture, monoprints from the growth rings of trees, still life watercolor and multimedia collage. Jill Abele Butcher also presents for the first time at Spectrum. For her, the birth of a new image reveals the forming of a new story, told in a unique visual language. She presents a scene on the water that conveys a story of mystery. Also new is painter Michelle Kaufman who is known for vibrant, life-like figurative works. She creates paintings from her own photographs and uses a long lens to achieve an invisible intimacy with others. Painter Lisa Helene, whose love of art and animals has been a constant throughout her life, makes all varieties of animals the primary subject of her work; she's cultivated her own style which can be best described as joyful, whimsical, and filled with vibrant hues.
Whitney Prentice's primary interest is painting and drawing the figure. He was a recipient of the Hudson Valley Art Association's Annual Exhibition Award in 2021 and has shown widely throughout Connecticut and New York. He presents several works in oil for the current exhibit. Watercolorist John Murray has a passion for art that is matched by a natural talent to capture subject matter such as expressive coastal vistas, intimate woodland pictorials, and seasonal treks through the countryside. Watercolorist Joanna Chapin returns and presents both a placid animal scene and another that especially captures a moment in time filled with emotional expression.
Painter and graphic artist Greg Murry returns to Spectrum with several waterscapes featuring birds; he creates colorful and detailed paintings of various subjects including boats, animals, and tropical beach scenes. Mark Hannon, the president of the Arts Alliance of Stratford, also joins and presents several waterscapes in acrylic. Award-winning painter B. Rossitto shows several new works in oil as well as a vibrant pastel-watercolor piece. Bivenne Harvey Staiger, a watercolor artist known for her dramatic capturings of natural motifs presents a piece that shows her passion for birds; Linda Reid displays a vibrantly colorful painting of a hummingbird approaching a bed of flowers; she combines her scientific knowledge of plants with a passion for nature to produce landscapes and animal portraits in both watercolor and acrylics.
Other artists participating in People and Animals include returning favorites Ned Farrell, Ceal Swift, Jan Prentice, Daniel Dahlstrom, Dina Belyayeva, Christine Miller, as well as artist Layne Marholin who shows new works in oil.
Diane Rubacha presents relief woodblock prints of a landscape scene and a charming waterscape with a child; Gloria Nilsson shows a mixed media landscape work with a soft and muted pastel palette; Kim Kordonowy presents several works in mixed media with fabric, acrylic, and oil on canvas. And Spectrum favorite Regina Thomas exhibits new, one-of-a kind vibrant and dreamlike mixed media pieces.
Photographers include Carol Lowbeer who specializes in photography of animals and seascapes which she enhances digitally with a variety of painterly effects and Colleen Reilly, an award-winning artist who shoots landscapes, wildlife, architecture, flowers, and people. New to Spectrum is Peter J. Morrissey who has been photographing the great outdoors for 50 years – from Connecticut to Alaska. He focuses on birds, which can be seen on the Nature Photographer Network, a premier site for international nature photographers. Photographer Phil Atiyeh's, also his first time at Spectrum, whose work spans a variety of subject matter shows two beautiful landscapes. Dianne Roberts presents a delightful photographic scene of the Uros People who live on floating islands on Lake Titicaca in Peru. Other photographers include Faith and Larry Bilansky, Judith Secco, Michael Fanelli, Paul Essenfeld, and Sue Mullaney.
Spectrum's Store includes many fine artisans working in ceramic, pottery, glass, fabric, wood, paper and more. New to Spectrum is Michiyo Shinohara (a.k.a. Shino) who was born in Japan and majored in fashion design at Bunka Fashion College, a school known for producing many prize winners in the Japanese fashion industry. She has worked as a fashion and accessory designer, and design educator. She presents multiple outfits and accessories. Others include Gwendolyn Grant, a home decor artist who creates fiber dreamcatchers and glass suncatchers; Lydia Becker who returns shows porcelain bas reliefs with nature providing inspiration for many of her designs; Jean Luc-Godard offers new Spring inspired light impression lamps. New pieces will be on view from Spectrum favorite glass artisan Maryann Fick and Lynn Webber delights with her glass garden birdbaths. New jewelry will be displayed from lamp work artisans Sandra and Whitney Huber, Joan Wenzel, Linda Saucier, Gloria Nilsson and polymer clay artist Beth Terhaar. Andy Teran carved driftwood whales are back as are Bill Waldron's cheese boards and vases in walnut and ambrosia maple. The upcoming Easter holiday is joyfully celebrated by fiber artist, Elaine Sych, with fiber and wood eggs and bunnies in every imaginable Spring color, and some are even ballet dancers!
Spectrum Art Gallery and Artisans Store is open Wednesday through Saturday (12-6pm) and Sunday (12-5pm). Shop Spectrum Anytime at spectrumanytime.com with shipping available throughout the US – a perfect choice for convenient gift giving all year long, with gift cards are also available in the Store and online. For more information call (860) 767-0742 and visit spectrumartgallery.org. Follow on social media at facebook.com/spectrumartgallery, instagram.com/spectrumartgallery, and twitter.com/spectrum_ct
###