First Summer Arts Festival on the Essex Town Green
Presented by the Arts Center Killingworth and Spectrum Gallery and Store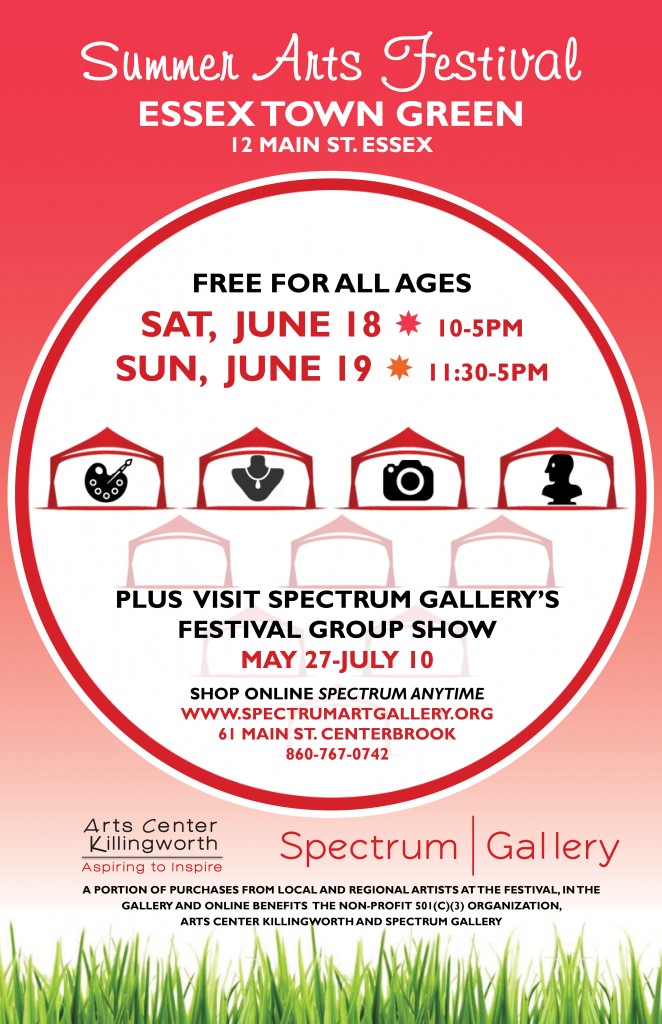 This Father's Day weekend, the first Summer Arts Festival on the Essex Connecticut Town Green will be presented by the Arts Center Killingworth and Spectrum Gallery in Centerbrook. Saturday, June 18 (10-5pm) and Sunday, June 19 (11:30-5pm), visitors to the Essex Green (12 Main Street) can discover the work of many fine artists and artisans from Connecticut and the tri-state region. On the Green will be representational and abstract painters working in oil, acrylic, watercolor and mixed media collage as well as photographers, potters, glass, wood, fabric artisans and jewelry designers using sterling and fine silver, copper and semi-precious stones. Additionally, the historic town of Essex – known as the "Best Small Town in America" – offers a vibrant and growing art scene, fine restaurants and a charming marina to explore.
The Summer Arts Festival includes a concurrent six-week Gallery Group Show (May 27-July 10) at Spectrum Gallery and Store in Centerbrook, Connecticut with a select group of work by participating Festival artists. This juried exhibition is a mixture of painting – both representational and abstract – as well as mixed media, sculpture and photography. Multiple artists are presenting for the first time at Spectrum, as well as several who have shown in exhibits since the Gallery's inception in the Spring of 2014.
"The Arts Center has been serving the Shoreline and surrounding communities now for 12 years and just celebrated its two-year expansion into a gallery and fine artisan store in Centerbrook," notes executive Barbara Nair, Director of the Arts Center and Spectrum. "This festival will be our first time showing many of the artists and artisans who have been with us at both the Gallery as well in other events in a public venue such as the Essex Green."
Festival artists exhibiting include landscape painters Amy White and Alyssa Ingram, abstract painters Diane Brown and Ty Davis, painters and photographers Ursula Coccomo and Sarah Grote, still life painter Christine Miller, and watercolorist Tatiana Ferraro. Photographers include Larry and Faith Bilansky who create vibrantly colored images, land and seascape photographers Paul Ramsey, Larry Reitz and Robert Thomas, and nature and wildlife photographer Brian Lee.
Many fine artisans exhibiting include wood artisan Linda Rizzuto who specializes in fine finishes, potter Nancy Scilipote, glass artisan Francis Barkyoumb and ceramicist and sculptor Monica Hewryk. Denise O'Reilly who etches fine designs onto glass and wood will also be on the Green as will mixed media artists Drew Mingolello, Penny Feder, Ruth Ann Sak, Sam Zeldner, collage artist Regina Thomas, and Monika Rak who designs vibrant silk scarves. The Festival also includes many fine jewelry designers who create with a variety of materials and in many styles such as Laise Clayton, Bruce and Gail Barton known for their exceptional seaglass designs, Anne Mulligan, Azra Hussain, beaders Pauline Clifford, Heather Gerl, and silversmith Denise Di Stefano.
As part of the Arts Center's mission to encourage beginning and emerging artists, the Festival will include a "Student Art Booth" and present the work of Azra Hussain, Josephine McKenna, Kathleen Renwick, Patricia Kasik, and Polly Scarvalone.
"It's important to note that there are also many artists we work with who are not on the Green this year, but whose art can be viewed at Spectrum in Centerbrook," added Nair. "We're excited to meet many new people from Essex and the surrounding towns and share the work of all of these fine artists."
The Summer Arts Festival coincides on Sunday with the Essex Art Association's 70th anniversary which includes a Founding Father's Day exhibition and talk by several children of the founders of the Association, including daughter of Henry Kreis, an internationally renowned sculptor whose work resides in the permanent collections of the Hartford Athenaeum as well as the Metropolitan and Whitney Museums.