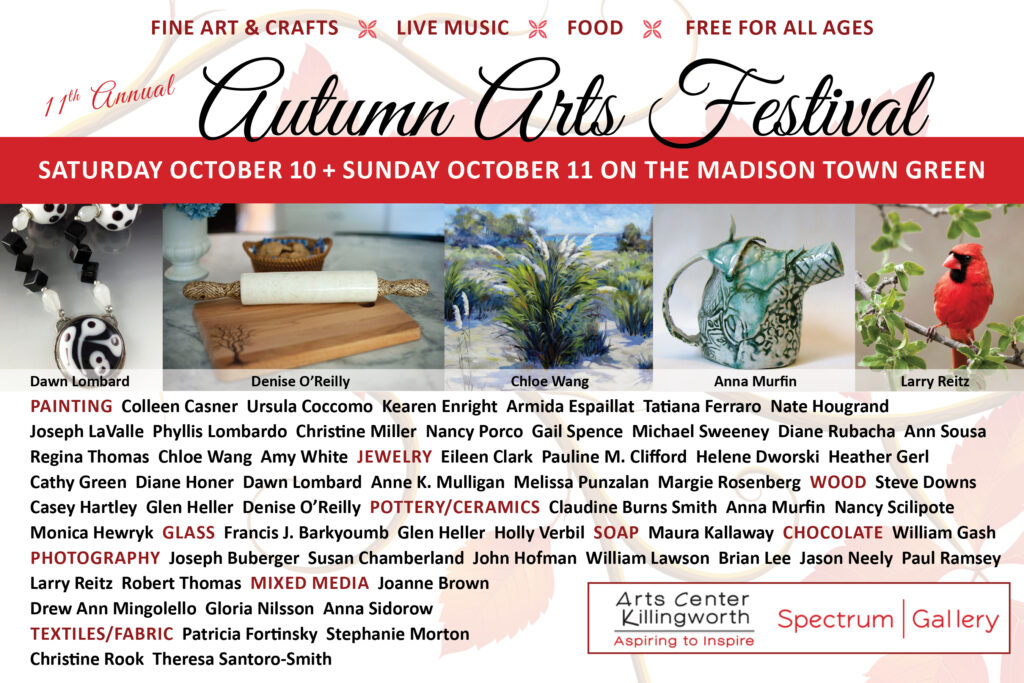 Columbus Day Weekend Autumn Arts Festival
and Spectrum Gallery Group Show
The Arts Center Killingworth's 11th Annual Autumn Arts Festival is Saturday, October 10 (9:30-5pm) and Sunday, October 11 (12-5pm) with a rain date of Monday, October 12 (10-5pm). This popular festival presents award-winning artists and fine artisans from Connecticut and the tri-state region. Located on the charming Madison Connecticut town green (Boston Post Road/Route 1 and Copse Road), the Festival includes representational and abstract painters working in oil, acrylic and pastel, as well as, photographers, potters, glass artisans and jewelry designers. Artisans exhibiting on the Green feature those working with mixed media collage, wood, glass, fabric, silver, copper and semi-precious stones.
For the second year, this annual art event includes a six-week group gallery show at the Spectrum Gallery and Store of select pieces by participating Festival artists. The juried show runs from September 25-November 8 and includes painting, photography and mixed media collage with the Store offering various one-of-a-kind fine crafts. Spectrum Gallery, an expansion of the Arts Center Killingworth, located at 61 Main Street, Centerbrook, Connecticut is open Wednesday-Friday (11am-6pm); Saturday (11:30-6pm) and Sunday (11:30am-5pm).
"The Festivalbrings together in one place artists and artisans from Connecticut and beyond," notes Barbara Nair, Executive Director of the Arts Center Killingworth. "Visitors return each year not only for a weekend of art, music and fun, but for a direct look into the creative process of many different art forms and styles by established and emerging artists."
Entrance to both the Autumn Arts Festival and Gallery Group Show is free. The festive atmosphere on the Madison Town Green also includes gourmet food options and musical performances by the JazzMan Duo and Jan Jungden Trio. On the Green, surrounded by both historic buildings and modern sculpture, festival visitors are given a complimentary event program with map and booth locations of each artist. Also provided is information on upcoming Arts Center and Spectrum Gallery classes, workshops, family days, and future Gallery receptions.
"At the Festival, you will see artists demonstrating their crafts, you can ask questions, and have the chance to acquire unique fine art and crafts for yourself or as a thoughtful gift," added Ms. Nair. "And for the artists? Their work will be exposed to a host of art lovers, both familiar ones as well as those new to their work. It really is one of the best ways to enjoy a beautiful fall weekend on the Shoreline of Connecticut."