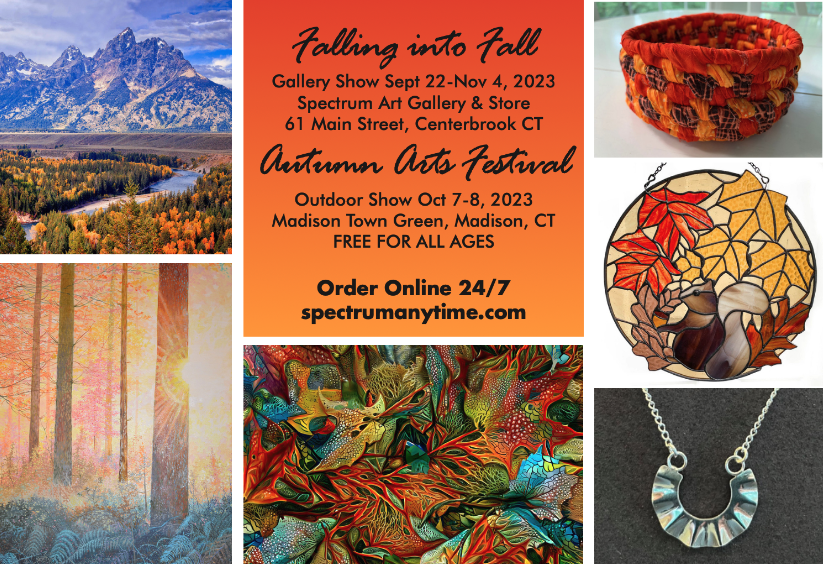 Falling into Fall
Spectrum Art Gallery Exhibit Opens September 22
Explore new and exciting artwork by established and emerging artists who celebrate the colorful and joyous season of fall and discover original paintings, sculpture, mixed media, and photography at Spectrum Gallery's newest exhibit, Falling into Fall. Enjoy an Open Reception Friday, September 22 (6:30-9pm) and an Open House Weekend, Saturday, September 23 (1-6pm) and Sunday, September 24 (1-5pm). The show runs through November 4 at Spectrum, located at 61 Main St., Centerbrook, Connecticut.

Many returning favorites, as well as new artists, include Kate Galambos, known for her exploration of color, line, and shape using mixed media, with the goal to "make imagination real". Leigh Harrison is a life-long watercolor artist, photographer, 3-dimensional artist, collage-maker and jewelry maker. Leigh shows one of her creative photographs in Spectrum's Fall show. Painter, Jeannette Delmore is inspired by the beauty of the New England landscape. She is an award-winning artist and works in oil, pastel, and more recently watercolor. Painter, Melissa Imossi, returns to Spectrum with her fall themed oil on linen, Yellow Path.
Anna Mastropolo is a textile artist, jewelry designer, and large-scale gouache and mixed-media painter. Inspired by Abstract Expressionism and the Pattern and Decoration Movement, she explores pattern, embroidery and embellishment in her clothing and accessories. Beth Pite is an award-winning pastel artist who paints with loose, gestural strokes of vivid color. Carol Courtney creates with alcohol ink and chooses subjects that are organic and offer unique results given the unpredictability of this medium. Stephanie Rogers is drawn to painting the beauty of the Connecticut Valley, New England, and other scenic places. Her colorful work comprises peaceful "soft-scapes" that invite viewers to pause, relax, and reflect.
Collage artist and photographer Sue Mullaney's subject matter ranges from the natural world to more surreal environments such as ordinary objects juxtaposed in surprising ways. Carol Dunn is a printmaker, photographer, and mixed media artist, specializing in alternative processes for creating art. She exhibits in the New England area and on the Outer Banks of North Carolina. Molly Waite Lund is an analog collage artist who repurposes vintage papers and experiments with color, shape, relationships, and negative space. She presents collage work with an autumnal theme.
New to Spectrum is Doreen Scharfenstein who works in watercolor and more recently in acrylic. Always inspired by water, both in her travels and by living near the river in Essex, she creates boat paintings, murals, and more. Also new to Spectrum is Jacqueline Benoit Larsen who works in oil on canvas and creates whimsical scenes. Maureen Maalouf is a painter who draws inspiration from nature. Trees, flowers, and sunsets are common subjects, though she enjoys the freedom of the occasional abstract piece. She is known for her vibrant colors and strives to bring feeling into every piece. Susan Ferrara joins Spectrum for the first time. A painter, she presents a bucolic landscape with rich color and brushwork. Rosanna Mitchell is a contemporary impressionistic artist who moved to Connecticut from Jackson Hole, Wyoming where she lived for 25 years. Eclectic in style, Mitchell is inspired by nature and focuses on landscapes, florals, and trees which are painted with varying mediums including paper she handcrafts. She also shows her clothing line for the first time at Spectrum in the Falling into Fall show.

Returning favorite painters are Gloria Nilsson showing a unique Fall still life, Catherine Satsuk exhibiting dreamy and ethereal oils on canvas and Rose Mary Gates who works in a variety of mediums including oil, charcoal, and pencil. Other important painters and mixed media artists returning to Spectrum include B. Rossitto, Ceal Swift, Christine Miller, Dan Nichols, Daniel Dahlstrom, Diane Rubacha, Marjorie Sopkin, Patricia Corbett, and Michelle Gore.
Returning and new photographers at Spectrum include Brian Dudek whose creative process is visceral with his work exploring traditional outdoor and natural images in color, black and white as well as composites, abstracts, and Impressionistic landscapes and seascapes. Photographer Zili Zhang subjects range from landscape to people, street documentary to travel; he combines elements of both Eastern and Western art. Award-winning Carol Lowbeer specializes in photography of animals, flowers and seascapes which she enhances digitally with a variety of painterly effects to recreate the mood of the original scene. She presents several new works of vibrant flowers and fall foliage. Other important photographers exhibiting include Robert Thomas, Dianne Roberts, Maryann Flick, Faith and Larry Bilansky, Karen Burke, Maria Johnson, Mary Elizabeth Dutko and Phil Atiyeh with a new line of his photo greeting cards and photographer and fine pen crafter Larry Reitz.

Many fine artisans are exhibiting at Spectrum's Store including Diana Eastwood who offers fall and Halloween-themed paper folding art books. Basket maker Elayne Stratz returns to show new fall baskets in a variety of sizes and colors as does Marie Angersola refreshing her gourd art with several fall themed creations and Barbara Hernandez-Froehlich displays fall themed photos on slate.

New to Spectrum is potter, Ryan Lavorgna, who uses his training in studio art and graphic design to investigate the vessel as a means of expression. Potter Niko Scharer adds to her collection at the gallery with more of her finely crafted functional serving ware. Janet McCready, also new to Spectrum, creates bowls made of beach stones, which she individually handpicks from the ocean's edge. Joan Weir makes whimsical creations in fused glass for picture frames and contemporary platters. She is also showing her new line of natural scented soaps with ingredients all handpicked from her garden. Jean Gresham works also with fused glass to create stunning functional Fall serving ware. Glass artisan, Maryann Flick, also helps to turn Spectrum into a fall showcase with her stained glass fall themed hanging glass panels. Lynn Webber repurposes glass and designs garden art in the form of birdbaths, totems, seed feeders, and flowers. Also showing their newest creations for newborns and children are fabric artists Elaine Sych and
Kristen and Valerie Owens as well as knitter and crocheter Holly Walker who creates stuffed animals and toys for children to snuggle.

Artisan Tom O'Connell creates small fused glass objects, at times whimsical and abstract, but mostly practical, to bring the beauty and fun of glass to others. Fused glass artisan, Sharon Lewis, displays new soap dishes and several new decorative fused glass boxes. Painter, Maureen Maalouf, also graces Spectrum with her hand painted fall and Halloween themed stemware which will turn any meal into a special fall event. Samantha Barlow-Beamer joins Spectrum and is a jewelry designer as well as a crafter of fantastic, tiny fairy houses. Lamp work artisan Sandra Huber refreshes with her exquisite new fall necklaces and pendants. As always, a wide mix of unique and daring fine jewelry can be had in multiple styles for the discriminating wearer. A mixture of materials to be found include semi-precious stones, fused glass, beads, polymer clay and fine metals used by designers such as Lori Meehan, Jean Gresham, Kristie Foss, Michele Kleiman, Sue Braden, Joan Wenzel, Jessica Dickens, Beth Terhaar, Dawn Lombard and Gloria Nilsson.

Spectrum Art Gallery and Artisans Store is open Wednesday through Saturday (12-6pm) and Sunday (12-5pm). For more information call (860) 767-0742 and visit Spectrumartgallery.org. Shop online at SpectrumAnytime.com with shipping available throughout the US – a perfect choice for convenient gift giving all year long, with gift cards also available in the Store and online. To join the community conversation, follow on social media at facebook.com/spectrumartgallery, instagram.com/spectrumartgallery, and twitter.com/spectrum_ct
###