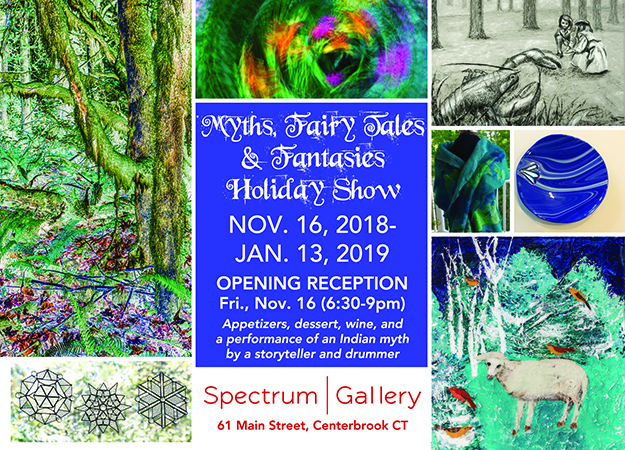 Myths, Fairy Tales and Fantasies!
Spectrum Gallery's Holiday Show Opens November 16
Spectrum Gallery and Artisans Store of Centerbrook presents its holiday show: Myths, Fairy Tales and Fantasies! opening November 16 through January 13. With original artwork and fine crafts that explore timeless fairy tales, myths and age-old stories, the holiday show is a perfect art-filled way to celebrate the season. The works presented in Myths, Fairy Tales and Fantasies express tales that excite the imagination with tales, dreams and fantasies that can be passed down from generation to generation.
The eight-week show, located at 61 Main Street, Centerbrook, Connecticut includes an Open Reception on Friday, November 16 from 6:30-9pm with food, wine and the display of Spectrum's annual Holiday Tree, adorned with original ornaments crafted by fine local artisans. The Reception also includes entertainment by storyteller Sujata Srinivasan who will share Indian tales while accompanied by a drummer. Sujata is an award-winning journalist who has been telling stories for children and adults for many years. A classically trained dancer in the South Indian art form, Bharatanatyam, her performances contain music, dance, art, and costume. At Spectrum she will perform two myths from Hindu mythology: the emergence of Lakshmi, goddess of all graces from the milky ocean; and Mohini, a disguise adapted by the Hindu deity Vishnu to rid the Earth of the demon Bhasmasura.
"The holidays are my favorite time of the year." notes Barbara Nair, Director of Spectrum Gallery. "As a child the lights, tree, ornaments, holiday tales and, of course, presents were not only magical but also hopeful about the dreams for the coming year. It is also a time when we remember to be kind and generous to each other. Interestingly, I see this every year in the store and gallery as clients really try to think of who a friend or relative is as they pick out gifts. This show has so many of these qualities with images in the gallery that transport us to magical places where the only limitations are our imaginations!"
Illustrators represented in the holiday show bring their magic to Myths, Fairy Tales and Fantasies. They include David Wenzel, known for his graphic illustration of the timeless classic The Hobbit, as well as award-winning illustrator Christine Kornacki, who among her many children's books has illustrated a six book series for American Girl, and Lauren Mills a winner of many national awards for her painting and illustrations. She has been featured in numerous high-profile magazines and newspapers including Fine Art Connoisseur and The New York Times. Other illustrators of note are Linda Graves an illustrator of over 40 children's books and winner of numerous awards for her Fantasy Art and Sculpture and Lynne Foster whose conceptual portraits inform, entertain and often disturb.
Artists presenting at Spectrum include mixed media artist Heidi Lewis Coleman, who creates collages using papers and natural materials, Regina Thomas known for her adventurous use of mixed media in her realistic collages and James Pizzimenti whose pieces include sculptural details. Painters include Melissa Imossi, a contemporary realist, watercolorists and acrylic painters Linda Reid, Gail Grgurich, Bonnie Lea Townsend, Flo Bartosiak and artist Gloria Nilsson showing a painting on silk of an angel. Artist Suzanne Starr shows her charcoal drawings featuring children playing with magical creatures while printmaker Elizabeth Ann McNally displays animals performing human activities such as getting ready to go to a holiday dinner.
Returning award-winning photographers presenting at Spectrum include Elin Dolle, Robert Thomas, Dianne Roberts, Sally Perreten and Bill Vollers. For the show assemblage artist Marsha Borden has created a fantasy snow angel and painter Christine Miller a one-of-a kind dollhouse.
Many Spectrum potters, glass and wood artisans, and fabric designers are exhibiting their holiday pieces. New work by glass artisans include Edith Deeg, Maryann Flick and Carole Young. Fine crafter Carley Tillinghast has created Christmas spiders. There are also new pieces by potters and ceramicists Hayne Bayless, Terry Van Heusen and Lori Rembetski; wood artisans Glenn Heller and furniture designer Phillip Bird. Fabric artists have outdone themselves with exquisite pieces throughout the store by Sylvia Loomis, Martha Simpson, felter Irene Dizes, Japanese weaver Michiyo Shinohara, bag designers Kia Barnett and Linda Lundqvist and new to Spectrum knitter Elaine Sych. New holiday jewelry pieces fill the jewelry cases, stocking gifts abound and ornaments are everywhere especially adorning the 6-foot annual holiday tree!
Spectrum Gallery and Store holiday hours are Wednesday-Saturday (Noon-6pm); and Sunday (Noon-5pm). Beginning Saturday, December 8 through December 23rd, Spectrum will be open Monday-Saturday (Noon-6pm); Sunday (12-5pm). Spectrum is open Christmas Eve from 11am-3pm.
Spectrum Gallery is an expansion of the non-profit Arts Center Killingworth which organizes classes, workshops and art camps and offers opportunities for emerging and established artists to develop, display and sell their work. For more information call Spectrum (860) 767-0742 and visit spectrumartgallery.org; call the Arts Center (860) 663-5593 and visit artscenterkillingworth.org.