Creating a Painting with Collage and Mixed Media Classes
Description: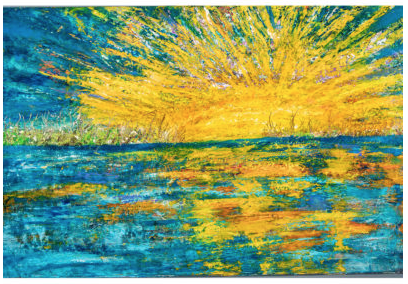 Want to try your hand at painting?  Thought you could only use oils, water mediums or pastels?  In this class learn to make your own papers and to use mixed media materials such as acrylics, markers, gels and your unique hand-made papers to create a fine art piece of your choice.  Use photos or your own sketches for inspiration and choose a canvas or panel of any size to work on.  Bring these items to the first class.
Teaching Artist Regina Thomas loves the uniqueness and freedom to delve into so many mediums and specializes in collage and mixed media. She began her training in England taking studio level courses, and is refining her craft through classes and workshops in the U.S. She has attended classes and workshops at RISD (Rhode Island School of Design), The New Art Center in Newton, South Shore Art Center, West Hartford Art League, Creative Arts Workshop/New Haven, CT, Yale University and the British Art Museum. Regina began showing her work in November 2002 and has been included in many juried exhibitions at museums and galleries. She is an elected artist at New Haven Paint and Clay.
Dates:  Wednesdays, 11/6, 11/13, 11/20; 12/4, 12/11, Makeup 12/18
Time: 12:30-3:00pm
Cost: $200 for 5 classes with $20 material list paid directly to the instructor; Members save $20
Membership starts at $45 per year and offers 10% discount on art instruction* as well as 10% off select Store items at the Gallery. *Does not apply to summer camps. Click here to become a Member
Event Registration and Ticketing Powered by Event Espresso