To add your own photos, input, comments and suggestions email us at  [email protected]org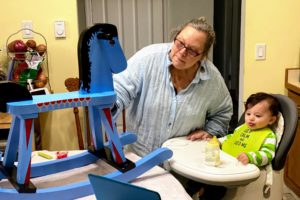 During this time of staying in at my daughter's house, I am having the pleasure of working on this rocking horse with my grandson, Alexander.  I especially love to paint things for children.  Using a vintage piece, acrylic paints and a sealant I'm transforming this oldie but goodie into a beautiful, new customized horsie. I'd be glad to transform one of your vintage pieces into a family heirloom.  If interested contact, Barbara Nair, Spectrum Gallery Director at [email protected] Also visit my pieces displayed on Spectrum's online gallery page. 
– Pamela J. Chandler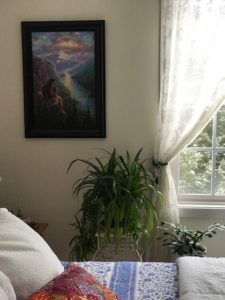 For me the painting by Christine Kornacki speaks of hope and dreams and always holding onto a sense of wonder.  What better place to have it than where I can gaze upon it every morning for inspiration and each night to promise magical dreams?  It's really wonderful.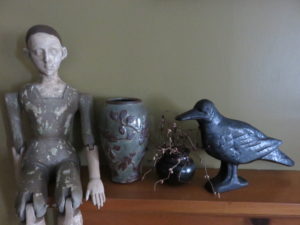 I am a collector of many antiques/primitives and this piece of pottery by Hannah Leckman is a wonderful addition to my home. Added to my fireplace mantel I think it fits perfectly with my other treasures and it is a joy to see everyday. – Terry Rioux